Celebrities interview
The 30 Most Outrageous Celebrity Interview Moments | Best Life
As this point in our culture's history, the celebrity interview has become so ubiquitous that it's difficult to surprise us anymore. They ask more or less the same questions, which result in the same, predictable answers. It's like painting by numbers. But every once in a while, we get a break from the monotony, and everything falls apart. That's when we perk up in our seats and really start paying attention.
Yes, the celebrity interview doesn't always go as planned. Sometimes people get angry, or a bad case of the giggles, or they say something that sounded a lot funnier in their head then it did coming out of their mouth. Hey, we're not complaining. We love it when an interview breaks all the rules, because that's when we see a famous person for who they really are, good or bad, confident or not so much.
Here are just 30 of our favorite celebrity interview meltdowns, bad choices, and just generally outrageous moments. And if you're looking for more outrageous TV moments, check out The 30 Most Outrageous Late-Night TV Moments Ever.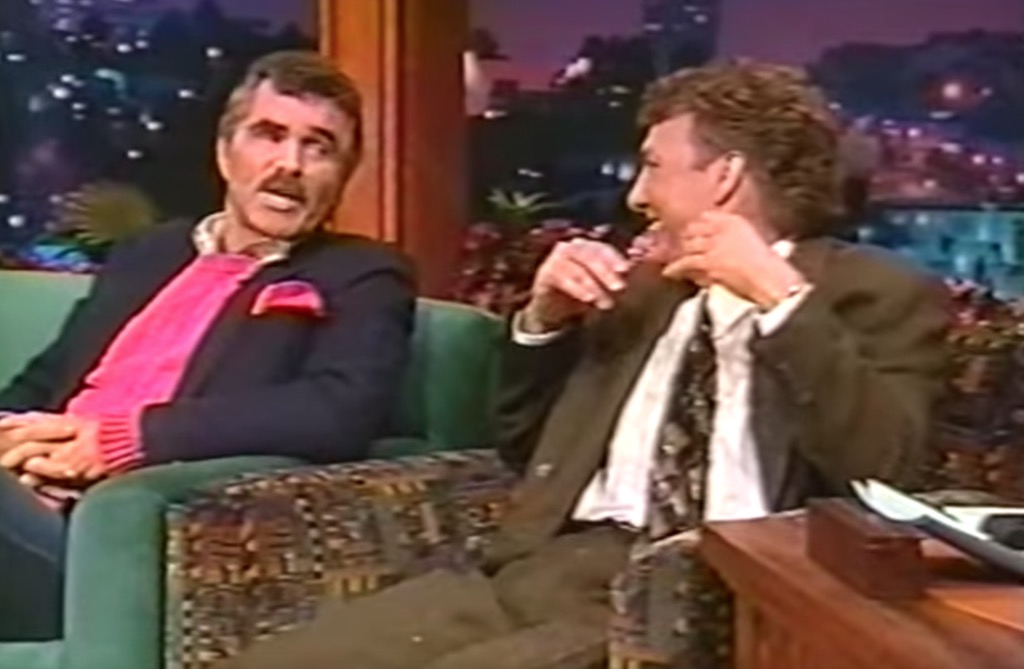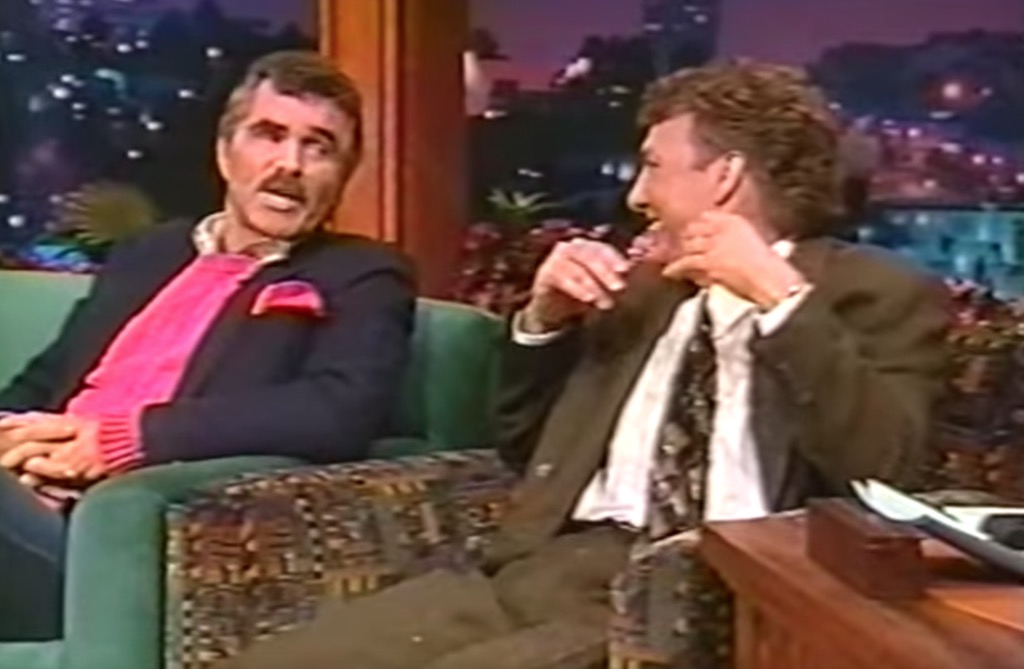 Marc Summers, the host on a Nickelodeon game show, probably should have known better than to tangle with Burt Reynolds. Both were guests on the Tonight Show in 1994, and after Summers made a crack about Reynolds' divorce — the Smokey & the Bandit star had recently split from Loni Anderson — things got messy. Glasses of water were thrown, and eventually pie. Host Jay Leno tried to steer clear of the carnage, but even he got hit by pie shrapnel. And if you've ever wondered why talk shows are arranged a certain way, here's Why Talk Show Hosts Always Sit on the Right-Hand Side.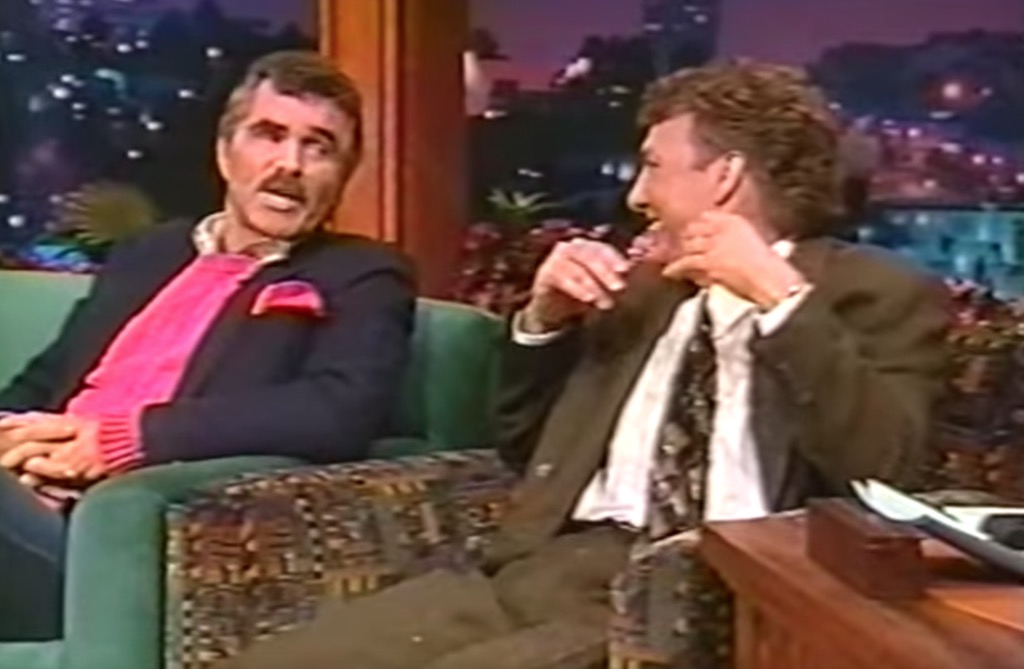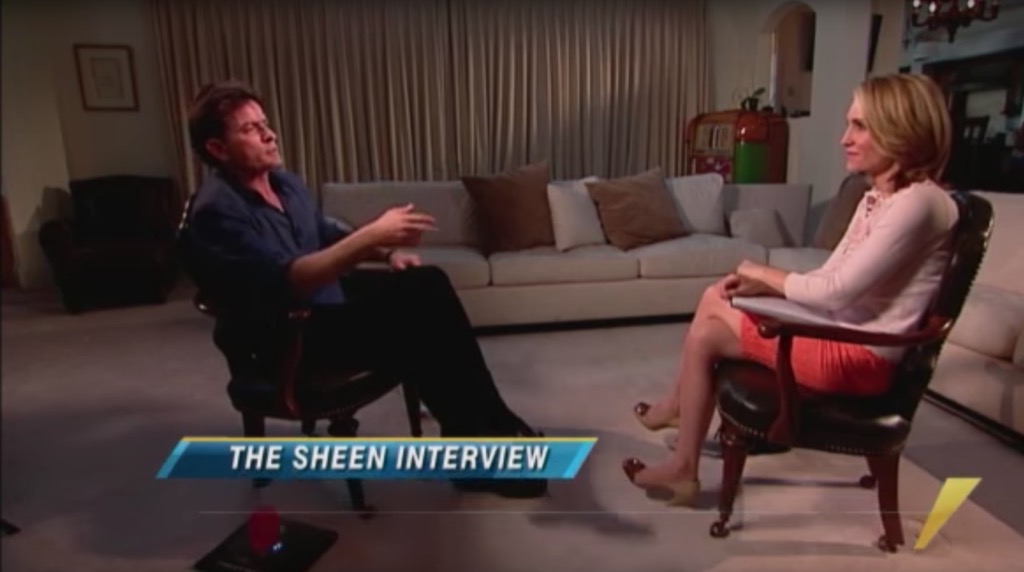 Charlie Sheen gave many crazy interviews during his 2011 Tiger Blood period, but this Good Morning America conversation is one of our favorites. So much crazy squeezed into five glorious minutes. He's not bipolar, he assures us, he's bi-winning. He's been "bangin' seven-gram rocks and finishing them because that's how I roll." He blinked and cured his brain. "Can't is the cancer of happen." Compared to him, stars like Frank Sinatra and Mick Jagger "just look like droopy-eyed armless children." Wow. We'll never, ever grow tired of watching this interview. And for more on interesting celebrities, check out The 50 Craziest Celebrity Quirks.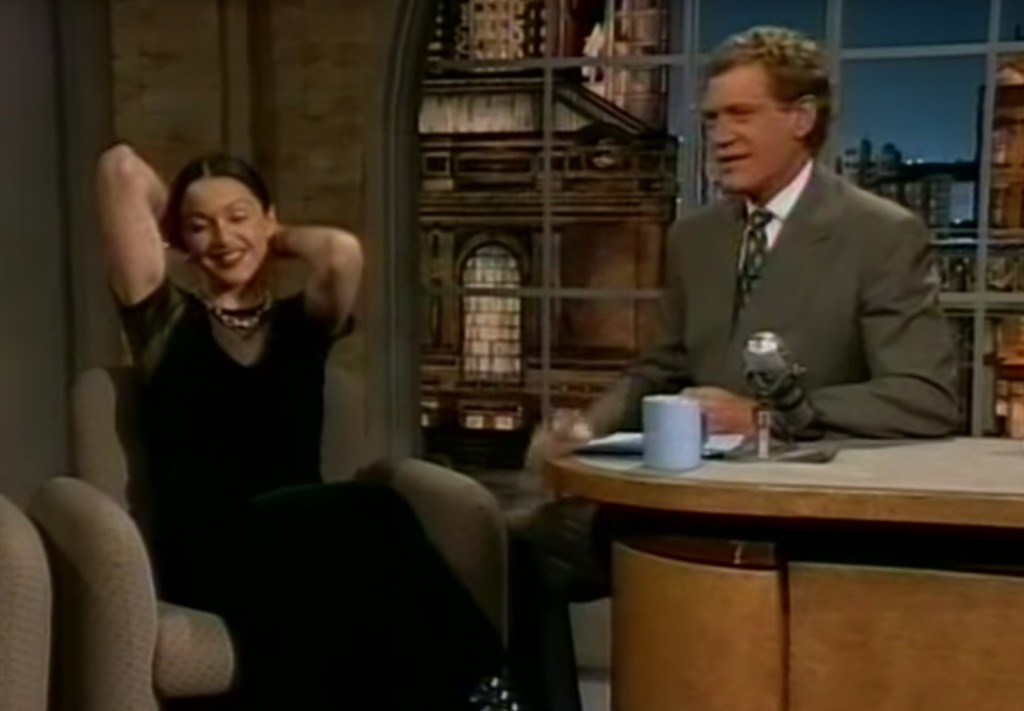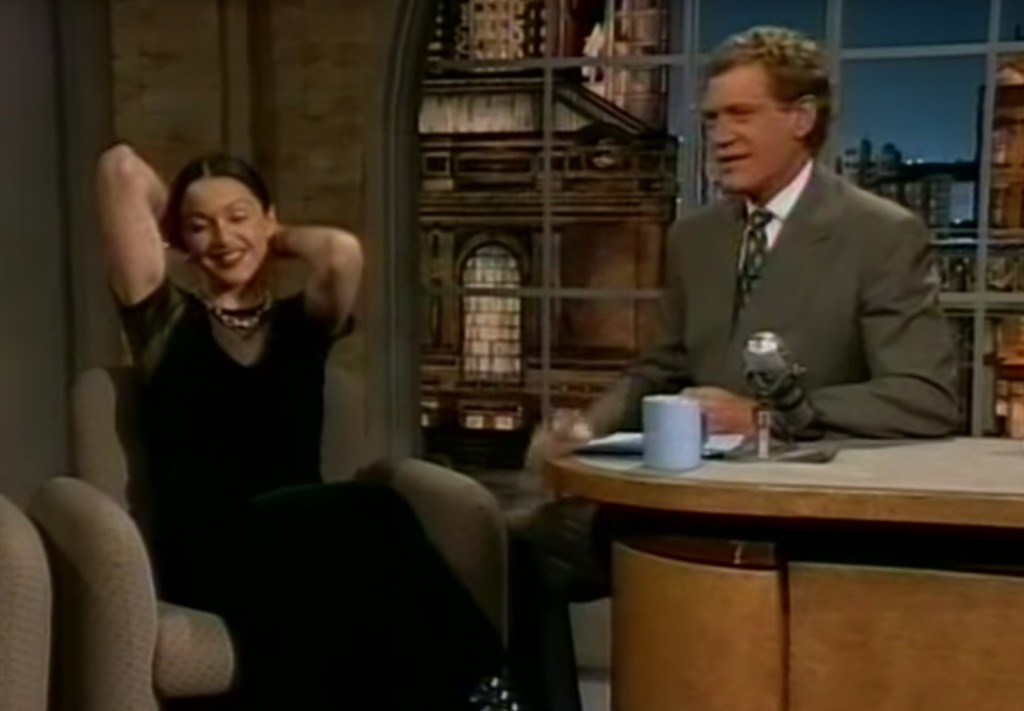 We're still not sure if Letterman actually enjoyed this 1994 interview with a combative Madonna. He sure seemed uncomfortable, especially when the Material Girl started dropping curse words and presenting him with her panties as a gift. But being annoyed was sometimes part of Letterman's schtick. Watch for yourself and see if you can figure it out: Is Dave secretly loving the trainwreck, or hating every second?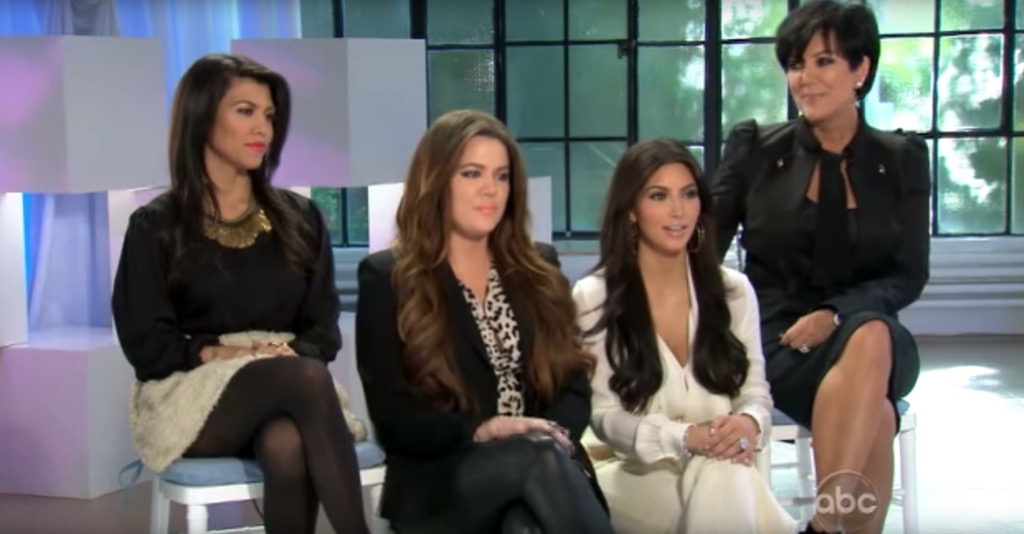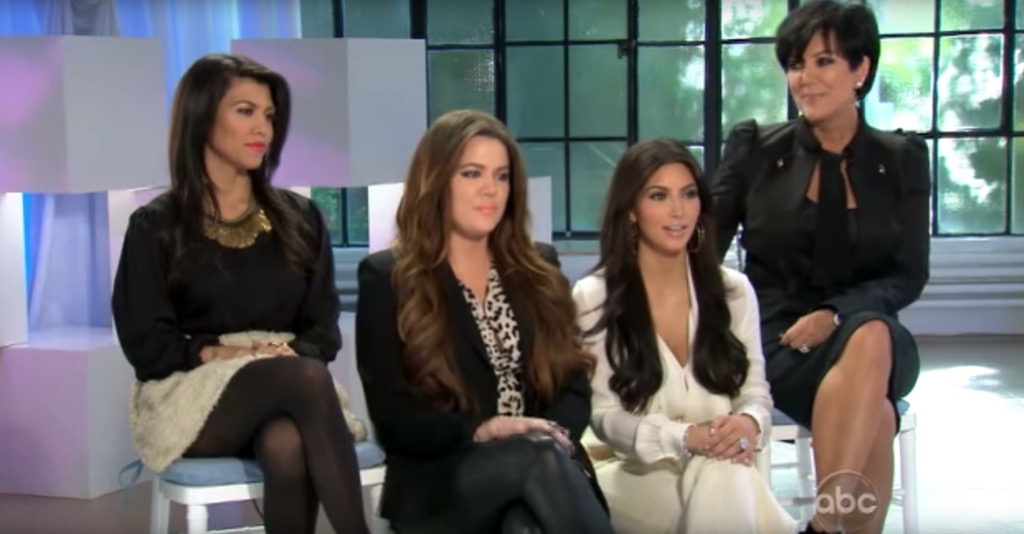 Leave it to Barbara Walters to say what we were all thinking. During her 10 Most Fascinating People of 2011 special, Walters sat down with Kris Jenner and daughters Kourtney, Kim and Khloe Kardashian and managed to deliver some hard truths to their collective faces.
"You don't act, you don't sing, you don't dance. You don't have any, forgive me, any talent." Khloe defended the family by saying, "But we're still entertaining people." Um… okay. And for more on Kim Kardashian's other half, don't miss the 30 Most Awkward Celebrity Awards Show Moments.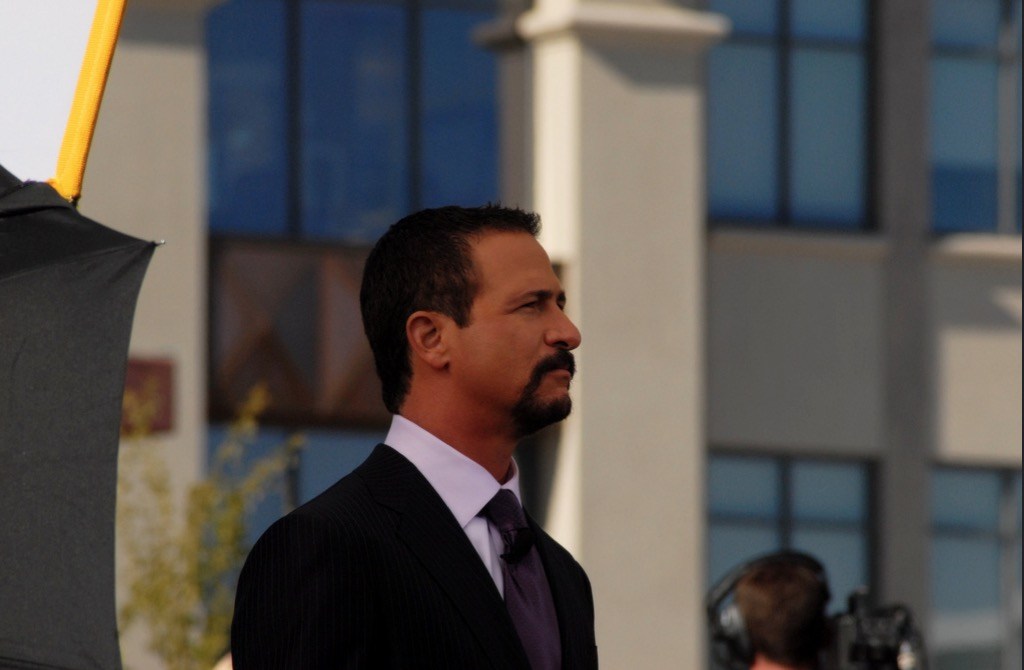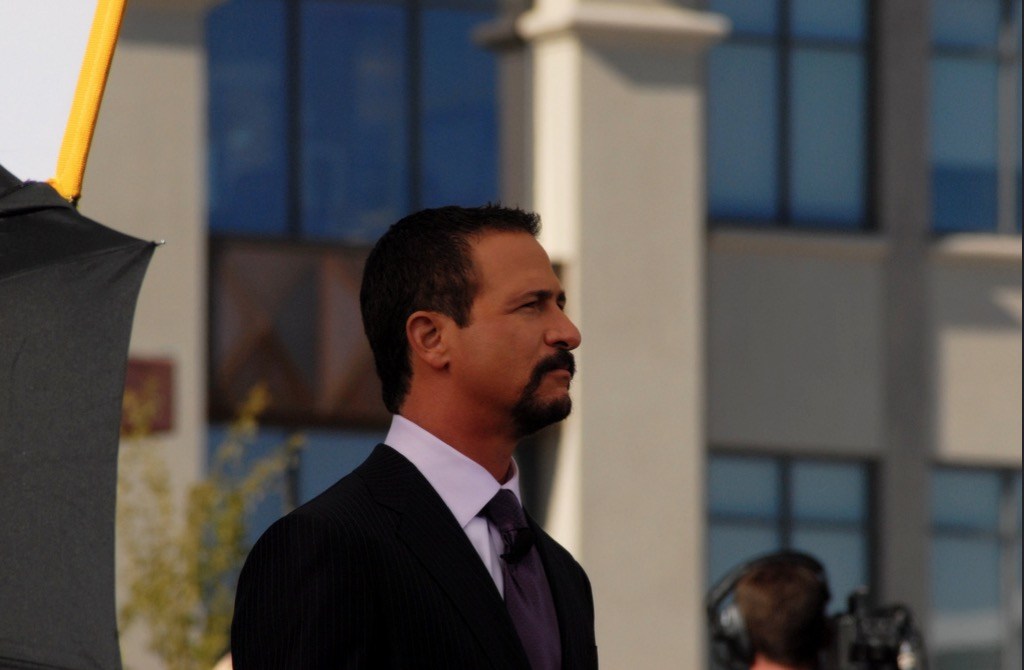 It seemed like a joke at first when former LA Rams quarterback Jim Everett threatened ESPN2 talk show host Jim Rome (pictured above) after the host kept needling him by repeatedly calling him "Chris Evert," the female former tennis champ. "If you call me Chris Evert to my face one more time," Everett said, wagging a finger at Rome, "you better take a station break." Rome took his chances and, well, let's just say furniture was overturned. Ah, the early 90s, when you could beat up an ESPN host for being a smug jerk.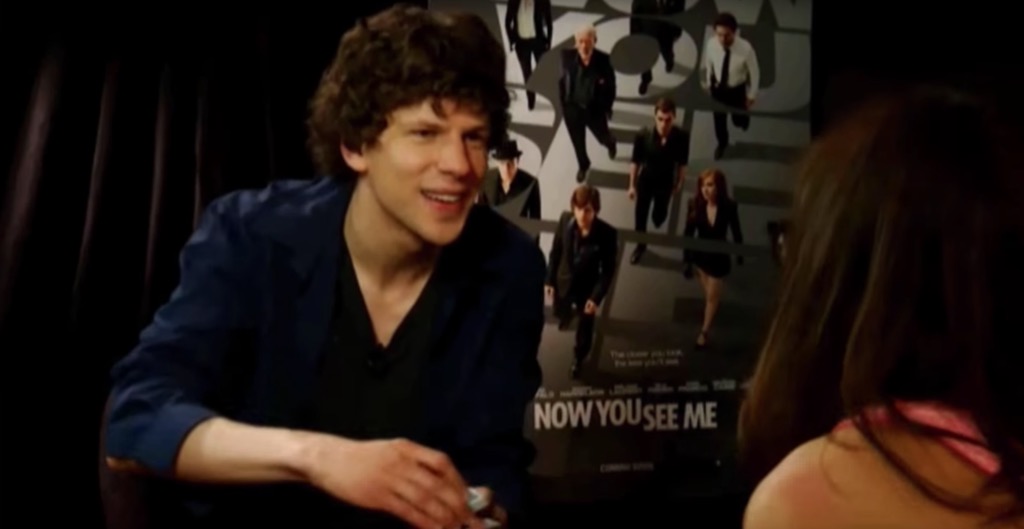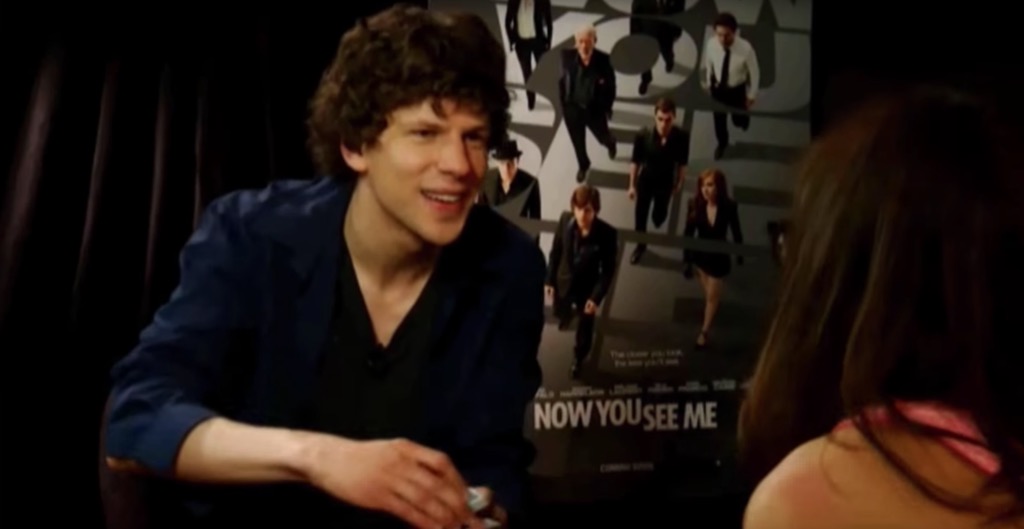 Actor Jesse Eisenberg always seemed like such a nice guy in the movies, but during this 2013 interview with Romina Puga, host of a Univision show called Say My Name, he was kind of a big meanie. Eisenberg, who was promoting his new movie Now You See Me, scolded the stunned host for referring to Morgan Freeman by his last name ("like you're on a little league softball team," Eisenberg scoffed) and dubbed her the "Carrot Top of interviewers." When it looked like she might cry, he asked her to "wait until after the interview is over because otherwise I'll look like I'm responsible for it." Come on, Jesse, go easy!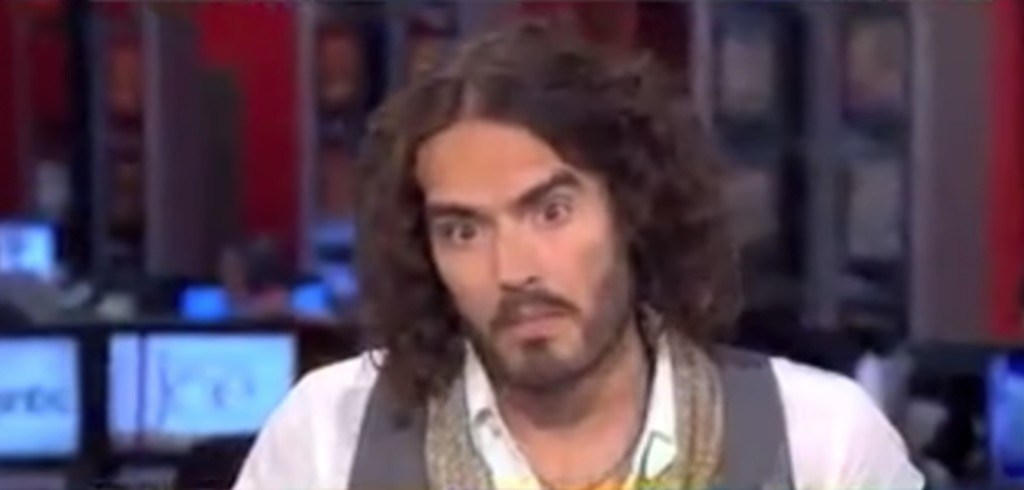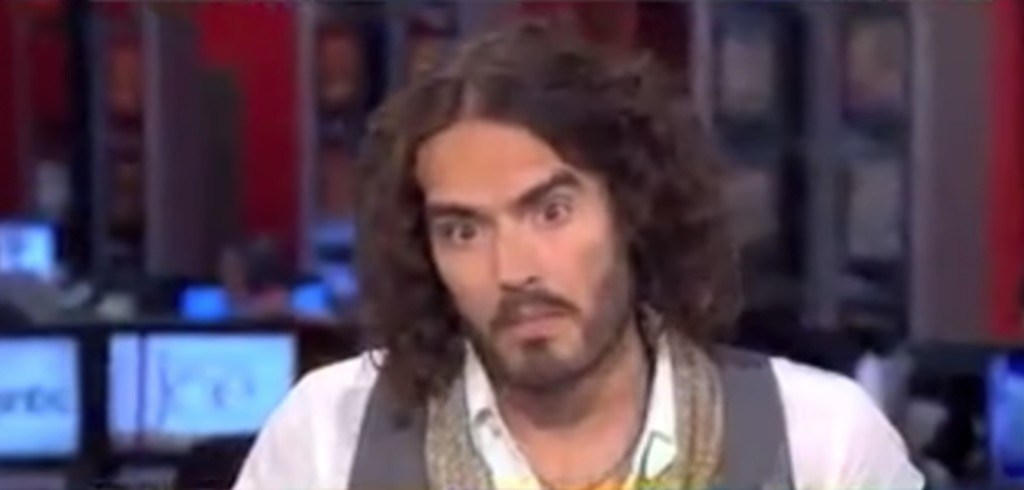 We have to side with Russell Brand on this one. During the first half of his interview on MSNBC's Morning Joe in 2013, he was being treated like a piece of meat; they talked about him in the third person, and for some reason called him Willy. But at the six minute mark, he starts to take over.
"Is this what you all do for a living?" he asks the panel, and then later thanks them for their "casual objectification." He hijacks the interview without being overly aggressive, and leaves the interviewers doubting their career choices with his sublime barbs. And for more hilarity, don't miss the 100 Awesome Facts About Everything.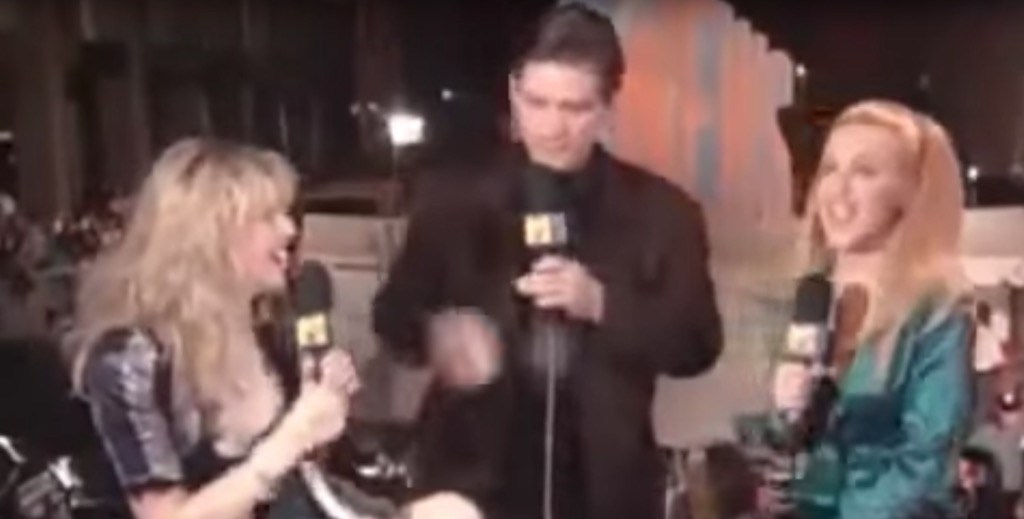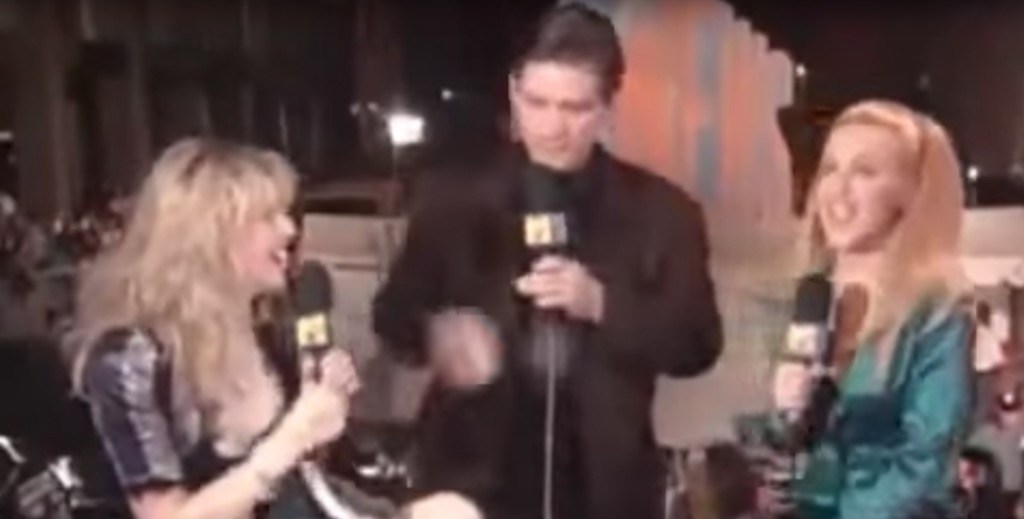 For those of you who weren't alive in the mid-1990s, you missed the unpredictable hijinks of Courtney Love. She might just appear at any time; say, throwing a shoe at Madonna while she's trying to do a VMA interview, and then inviting herself into the interview like it's no big deal. That's what happened in 1995, and the resulting conversation was just as tense and filled with thinly-veiled insults as you might expect.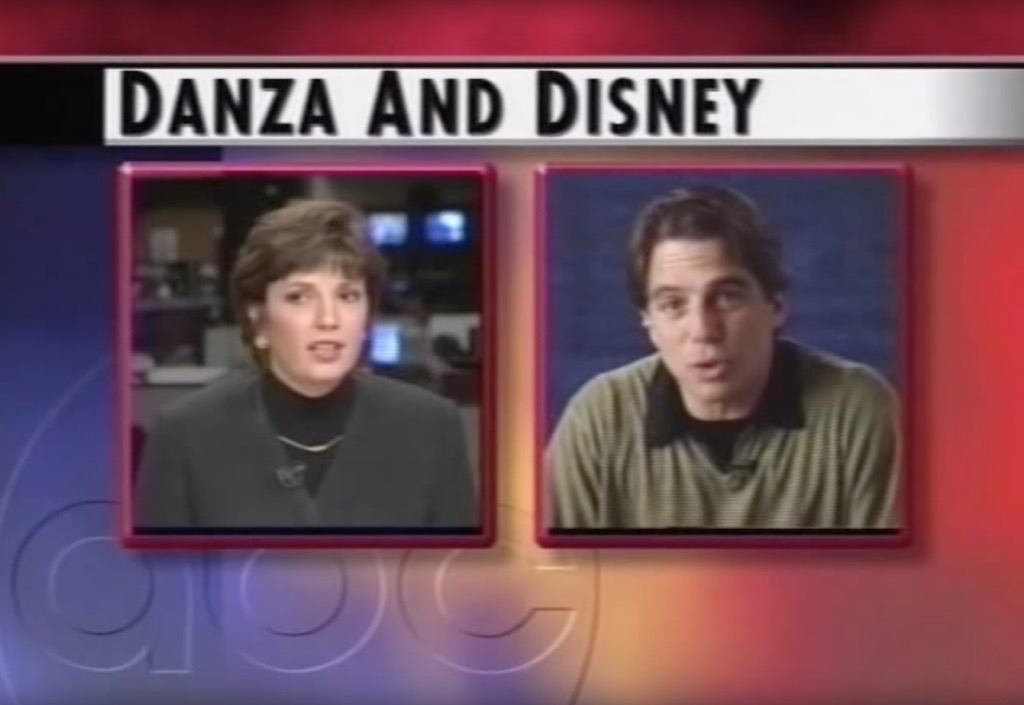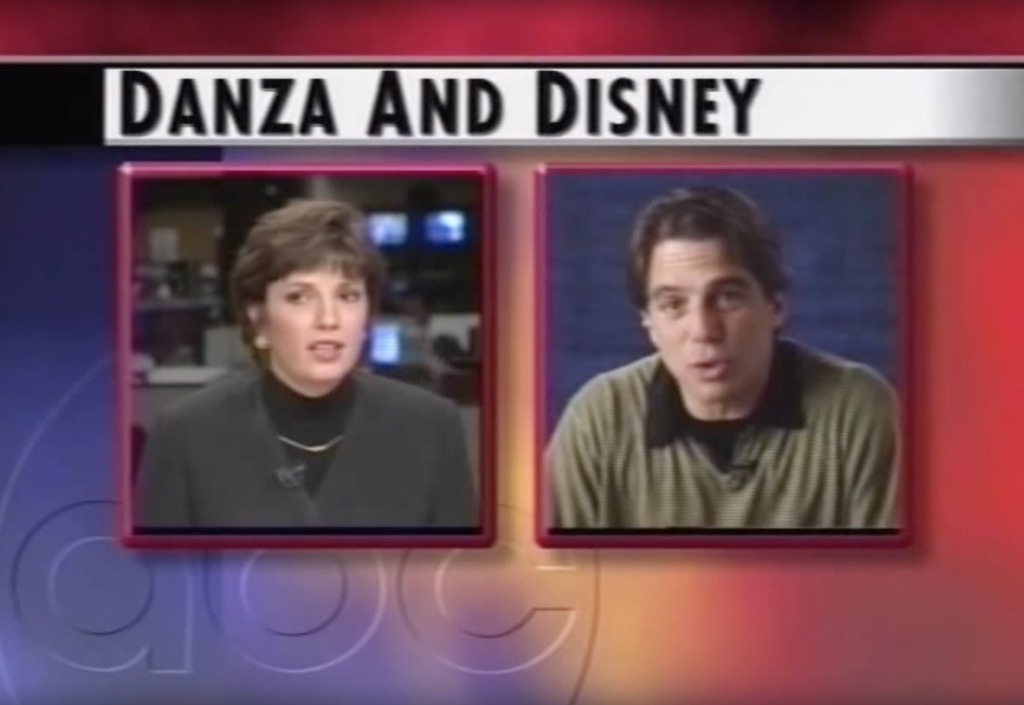 In his defense, when Tony Danza went on a local news show and was waiting for his introduction, he didn't realize his mic was on when he started muttering, "Ya know what I hate about being on these things? Ya end up on those news shows so often, ya know? And those news shows are terrible… I'm gonna be part of the local news! How exciting! Ya know, right after 'murder and mayhem, and the rescue in California, Tony Danza!' I'm so excited."
Even when he realized the host had been listening, he wasn't all that concerned. "Well, don't ya feel a little bit like that's what you do? It's not just me that thinks that, by the way." We may not know Who's the Boss, Tony, but we sure do know who's the doofus.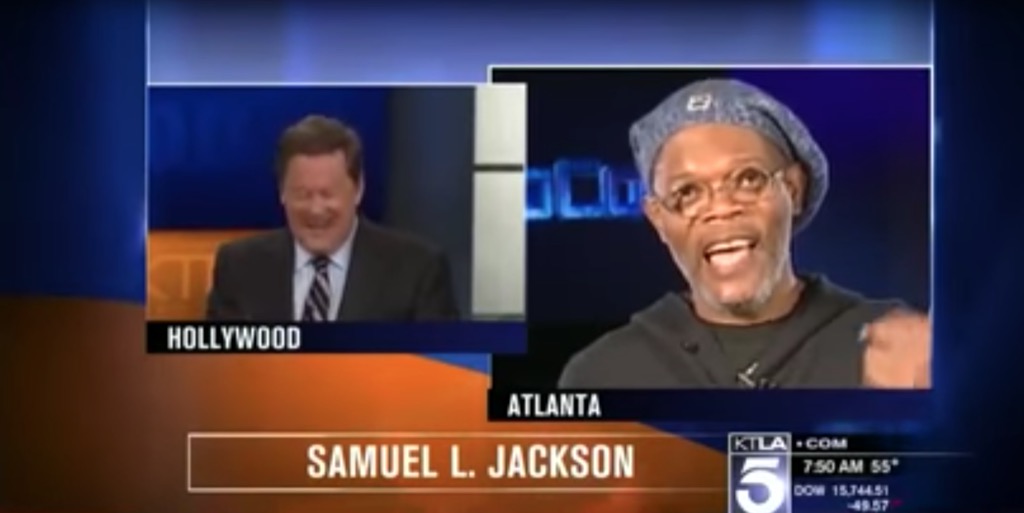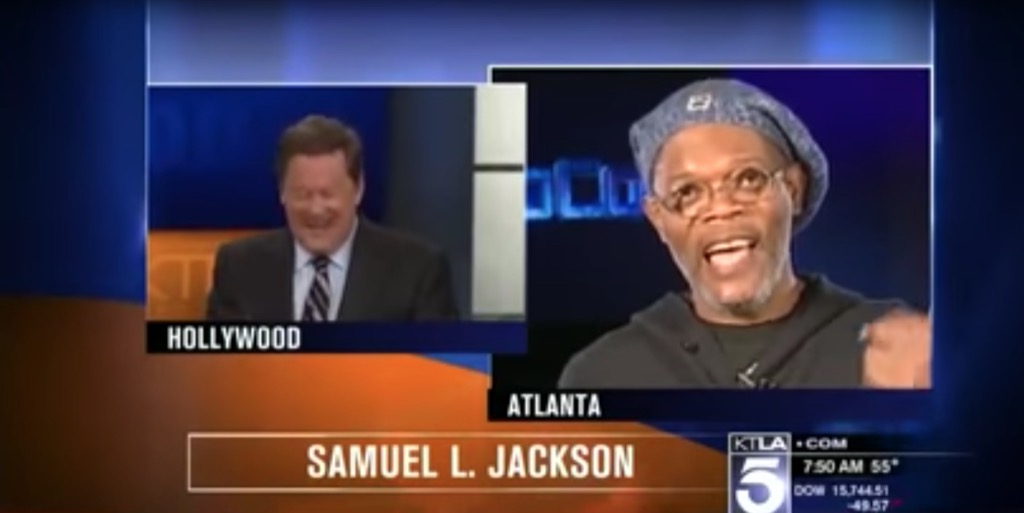 We think Samuel L. Jackson was remarkably reserved after being confused in a 2014 interview for another African-American actor. "We don't all look alike," Jackson schooled the humiliated (and white) TV reporter who thought he was really Laurence Fishburne. "We may be all black and famous, but we all don't look alike. You're busted!"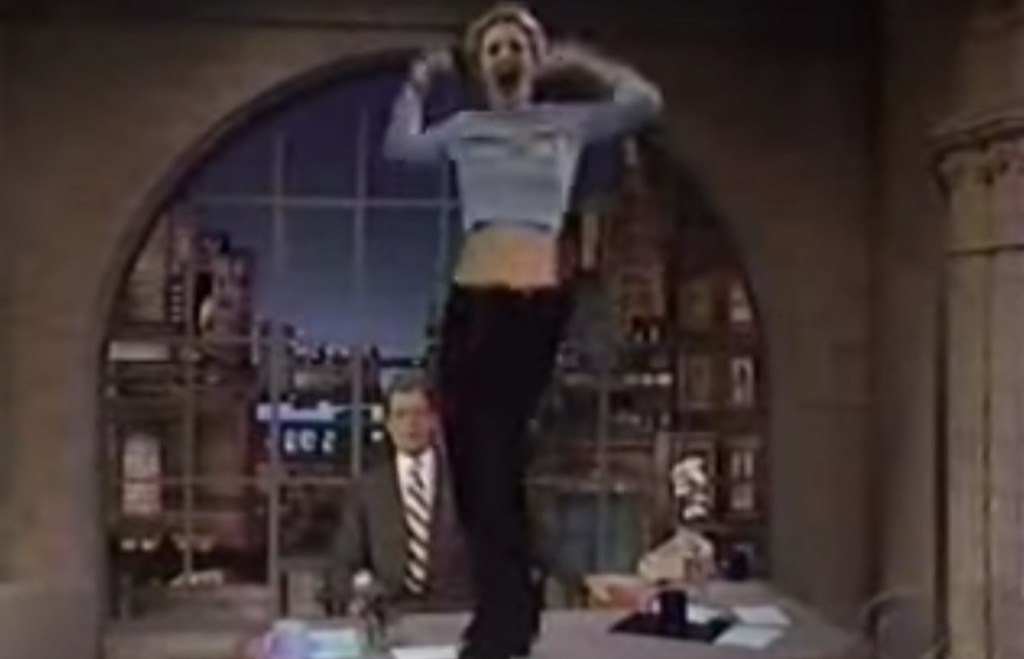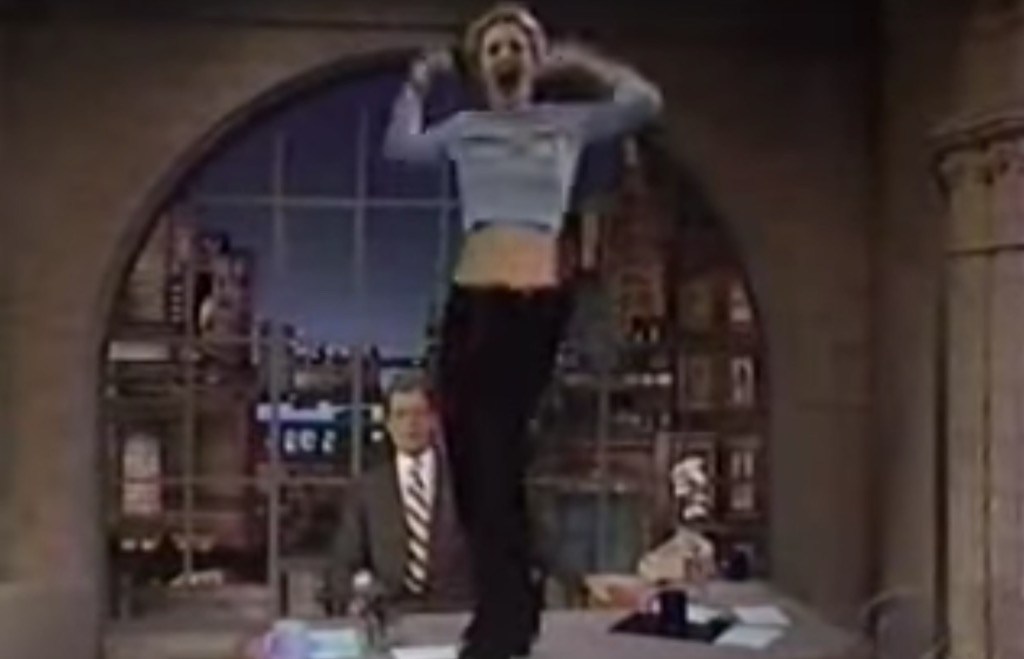 It's not often that David Letterman was the one being embarrassed by a guest and not the other way around. When Drew Barrymore visited the show in 1995 during Letterman's birthday, she decided to reward him with a spontaneous desk dance, and with her back to the audience, she lifted her shirt and exposed her… you know… for the gobsmacked host.
"It's still something I think about and talk about and tell my friends," Letterman told Barrymore twelve years later, just before his 60th birthday. She declined a repeat performance.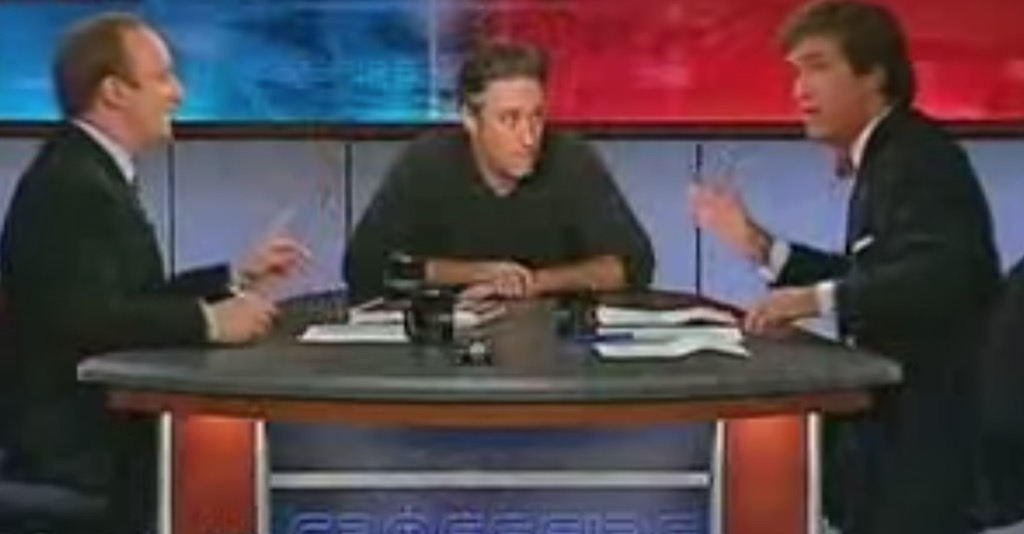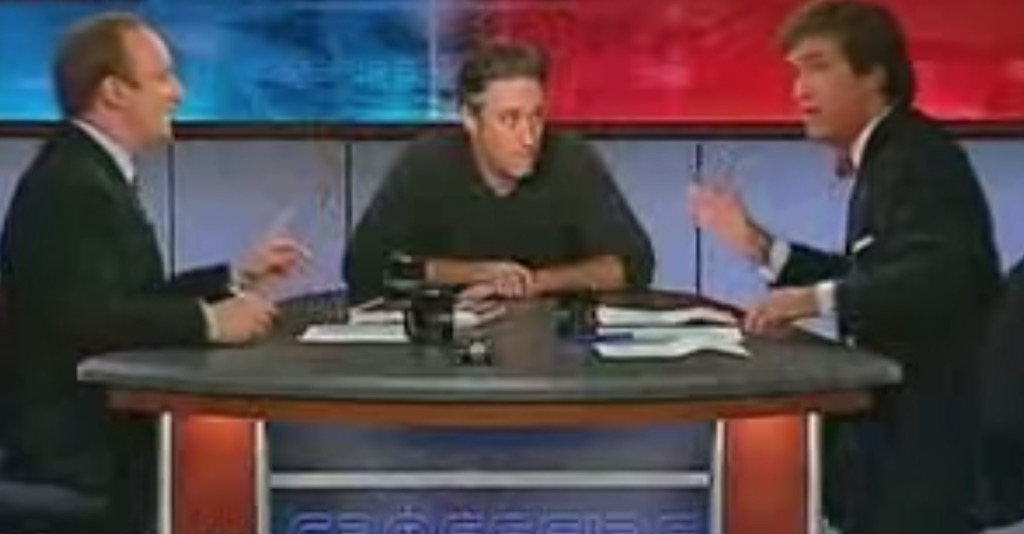 Tucker Carlson was probably expecting the then-Daily Show host to make political jokes when he invited Stewart as a guest on his (soon to be cancelled) CNN show Crossfire, in 2004. Instead, Stewart accused Carlson and his co-hosts of being "partisan hacks" and begged them to "stop hurting America." It's painful viewing, but it hurts so good. And for more fun facts, here are the 28 Most Enduring Myths in American History.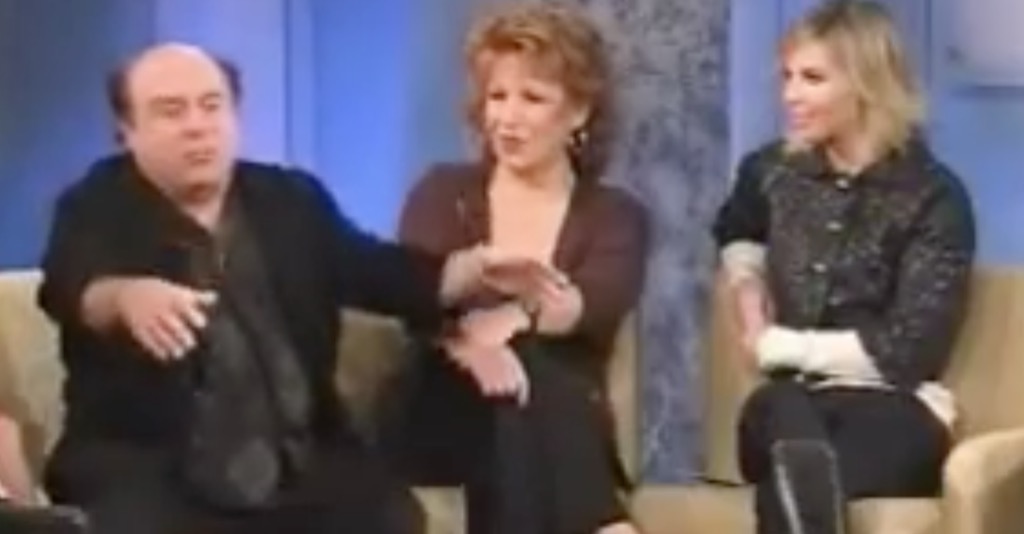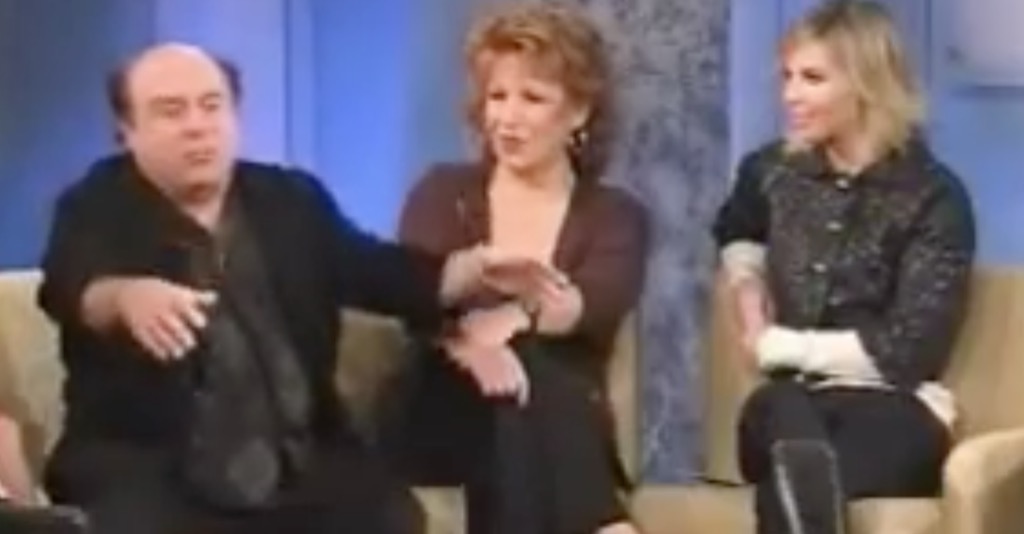 It's not immediately apparent that Danny DeVito is drunk when he walks out for his 2006 appearance on The View. But then he mentions he was up the previous night drinking with George Clooney, and admits that it was "the last seven limoncellos" that got to him, and you know things are going to get weird.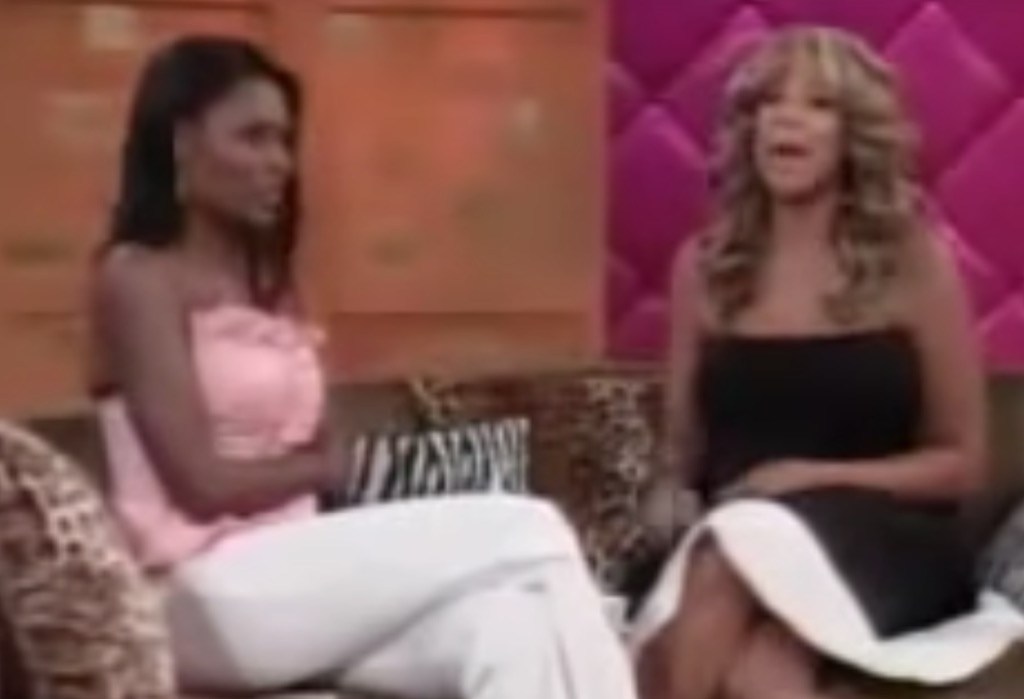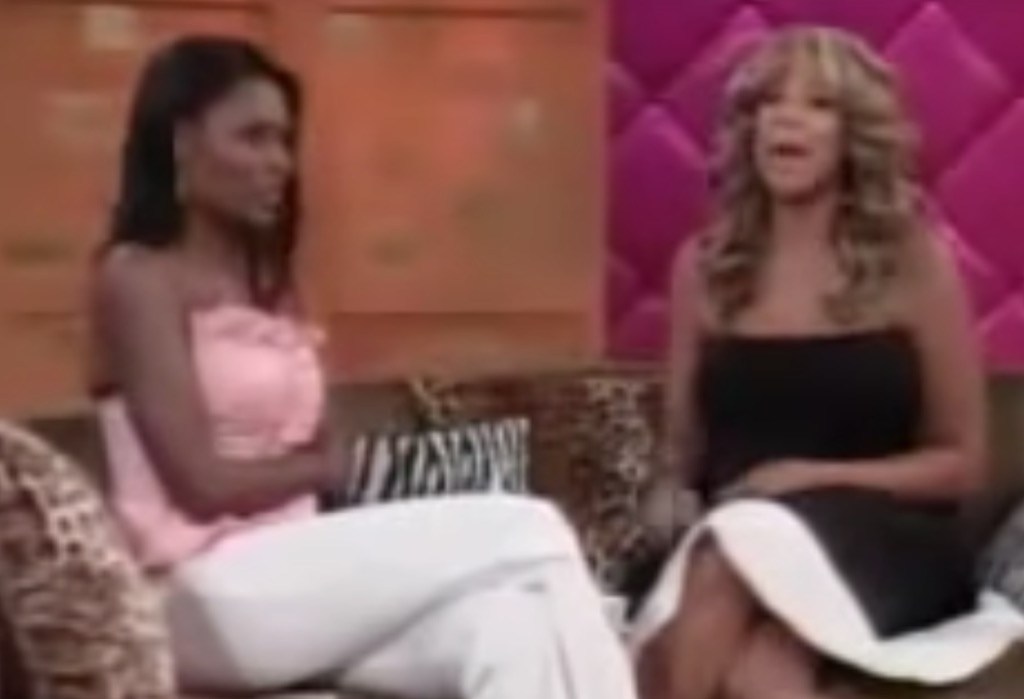 In 2008, years before she would become (and later be fired as) Trump's "communications director for the Office of Public Liaison," Omarosa battled with talk-show host Wendy Williams about plastic surgery and whether it was better to be "an angry black woman than a buffoon," in Omarosa's words.
The whole segment is a feast for the senses, but our favorite moment is when Omarosa accuses Williams of a nose job, prompting the host to suggest that the Apprentice reject get some Restylane to fix her wrinkles. "They say good black doesn't crack," Williams sneered. "But it's cracking." And for more amazing burns, here are the 28 Wittiest Put-Downs Ever Uttered.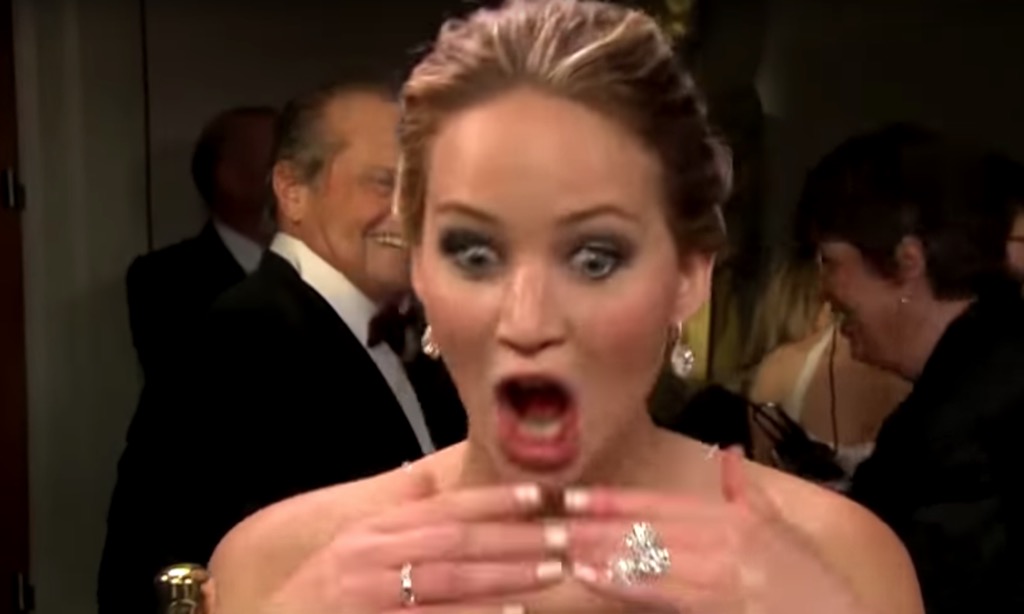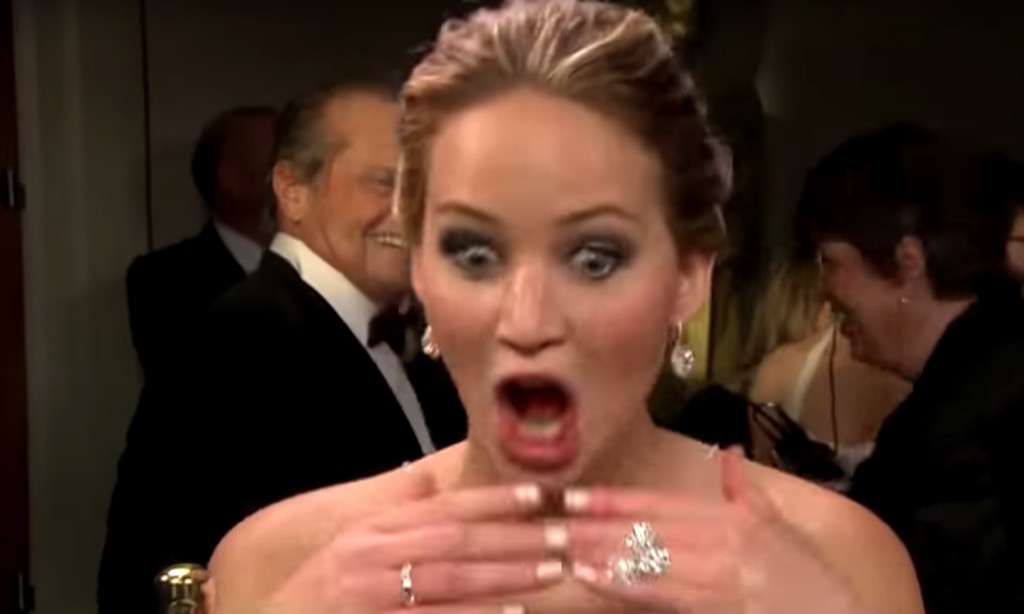 The look on Jennifer Lawrence's face during her 2013 post-Oscar interview, after winning for her role in Silver Linings Playbook, when she realizes film legend Jack Nicholson is standing behind her, is one of the best, most unaffected things we've ever seen in an awards show interview. It just gets better when the pair start flirting — Nicholson says she reminds him of an old girlfriend, she counters with "do I look like a new girlfriend?" — and it escalates from there.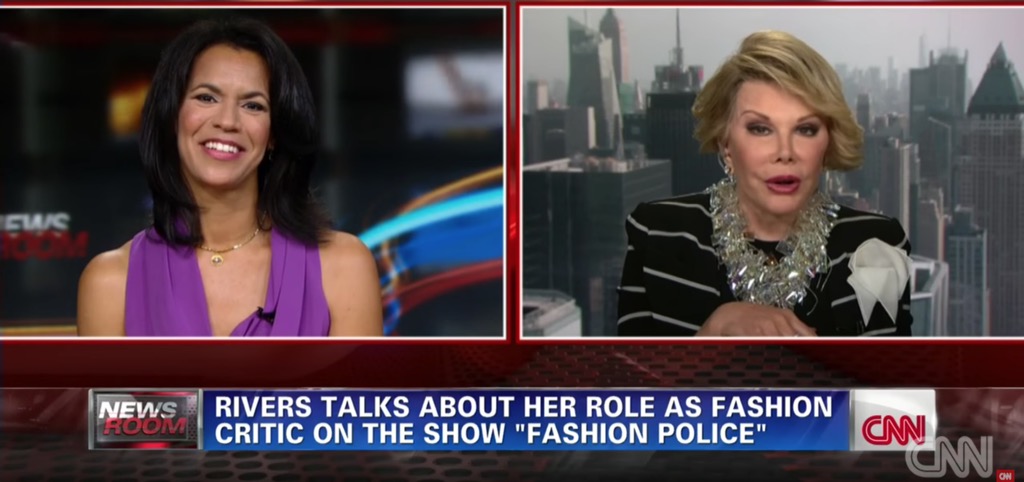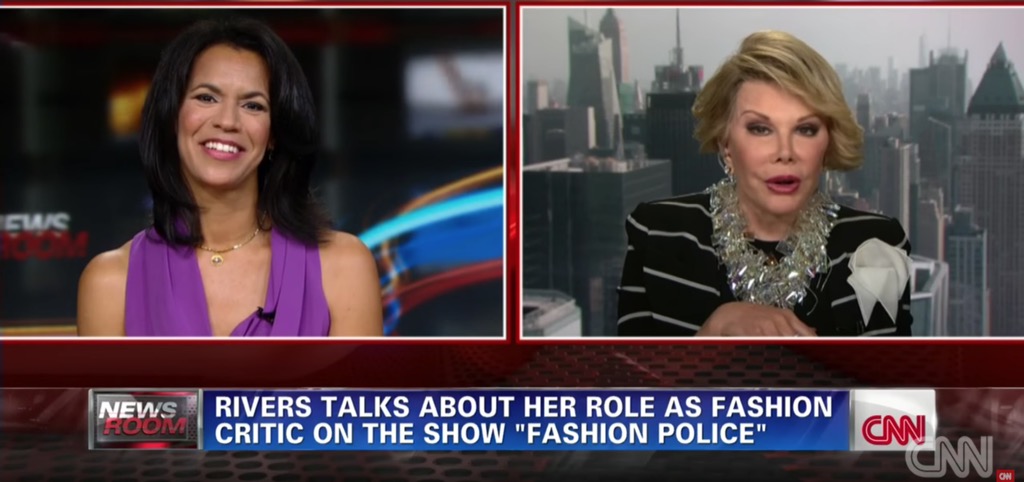 If you're going to attack an 81-year-old comedy legend with a famously barbed tongue, you better be prepared for some consequences. When this CNN interviewer got a bit too critical with Rivers for her "shock value," especially her choice to wear a fur coat on her book cover, Rivers responded in exactly the way you might expect. "Are you wearing leather shoes?" she asked. "Then shut up, I don't want to hear it."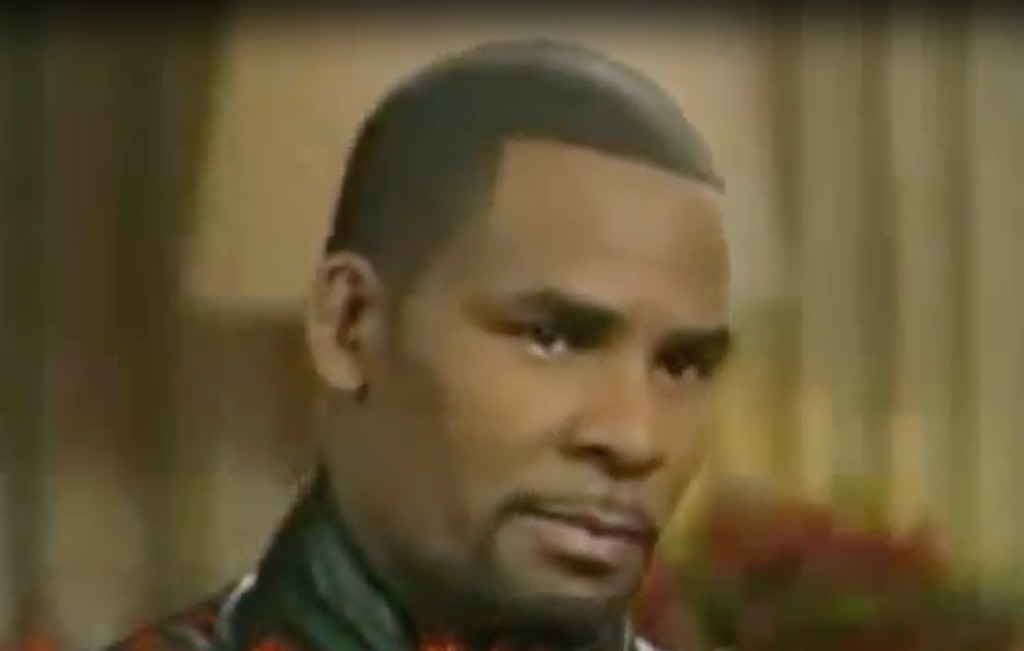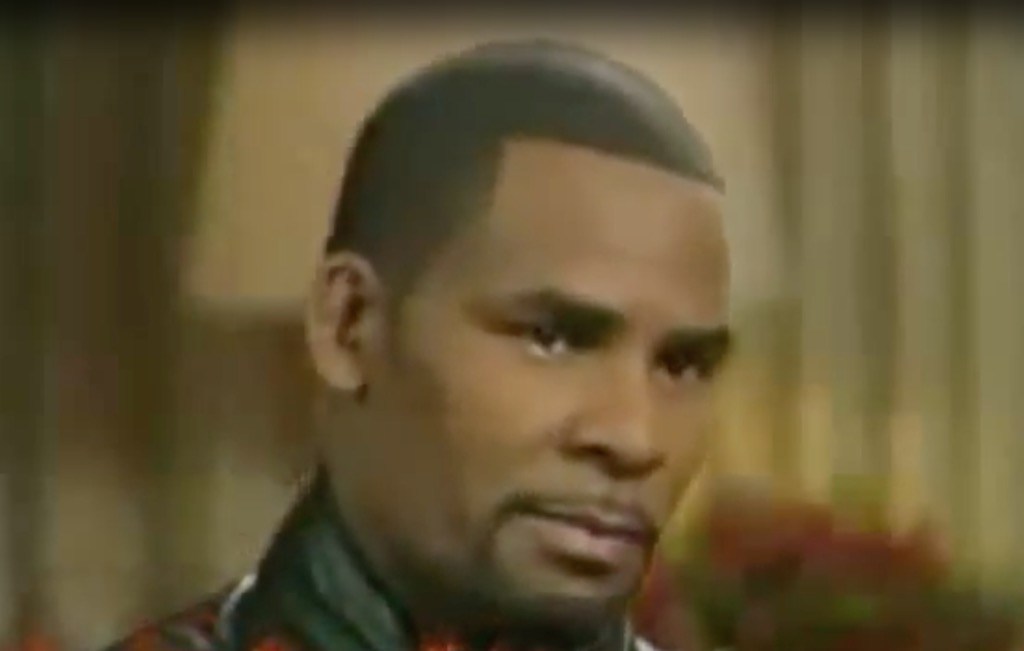 In this 2008 interview with BET, R. Kelly had the perfect opportunity to dispel rumors about his less-than-legal proclivities. But when you're asked "Are you attracted the teenage girls," the correct response is almost certainly not "When you say teenage girls, how old are we talkin'?" Oy.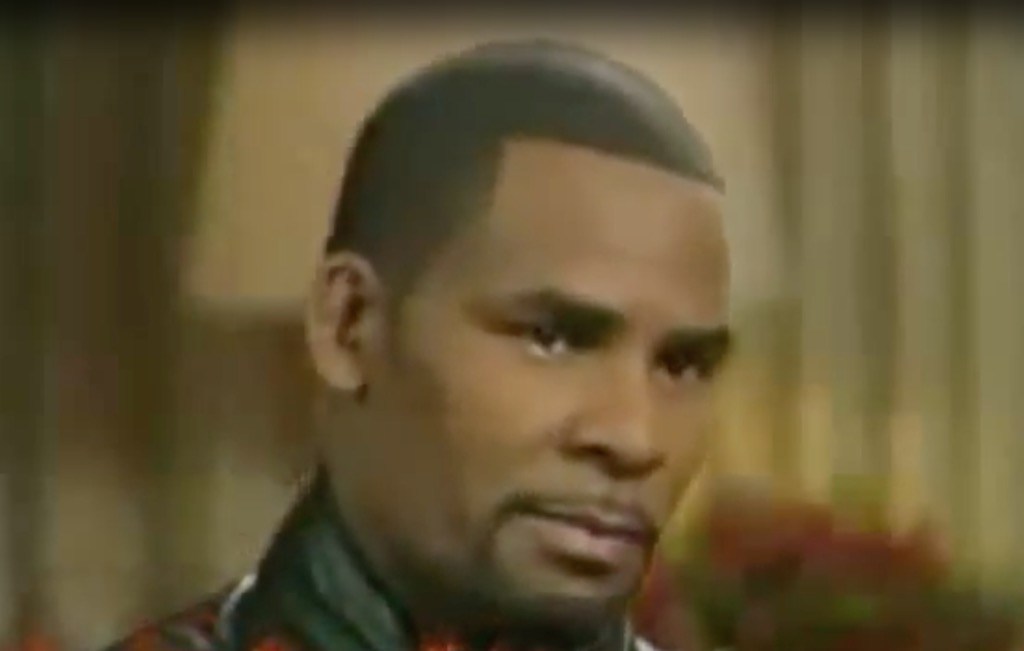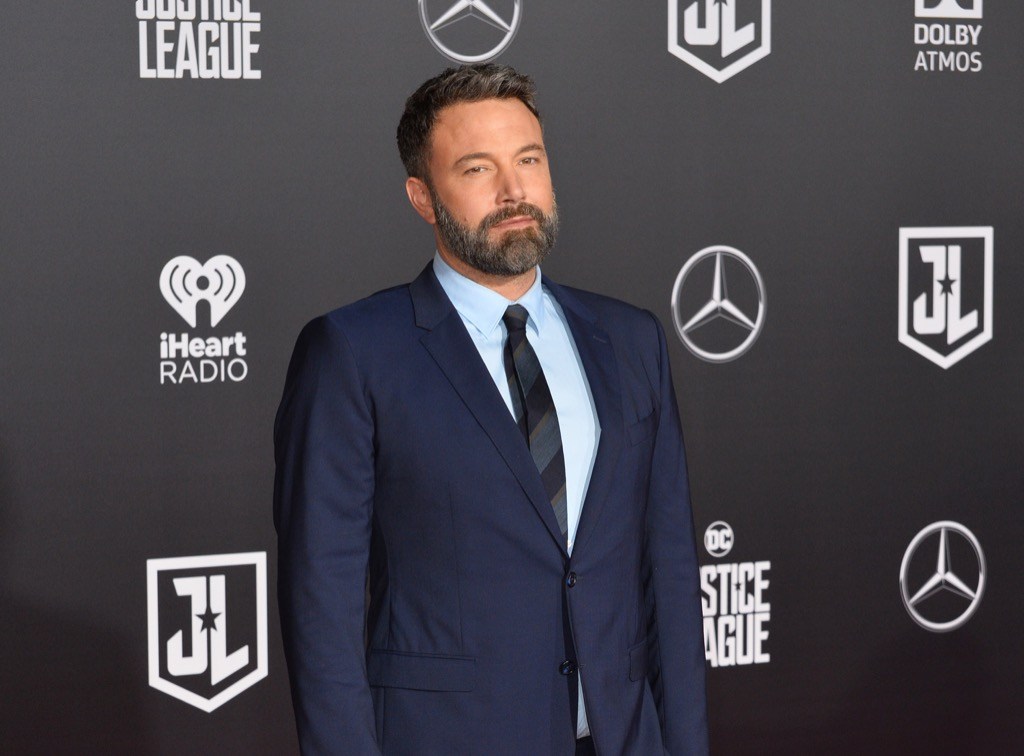 We're not sure if Affleck was drunk or just feeling handsy during this 2004 interview, but when he straddled (yes, straddled) Canadian TV presenter Anne-Marie Losique and started muttering about how audiences would "like the show better if you did it topless" and "you usually show a lot more cleavage than this," it was not — how do you say? — a good PR moment.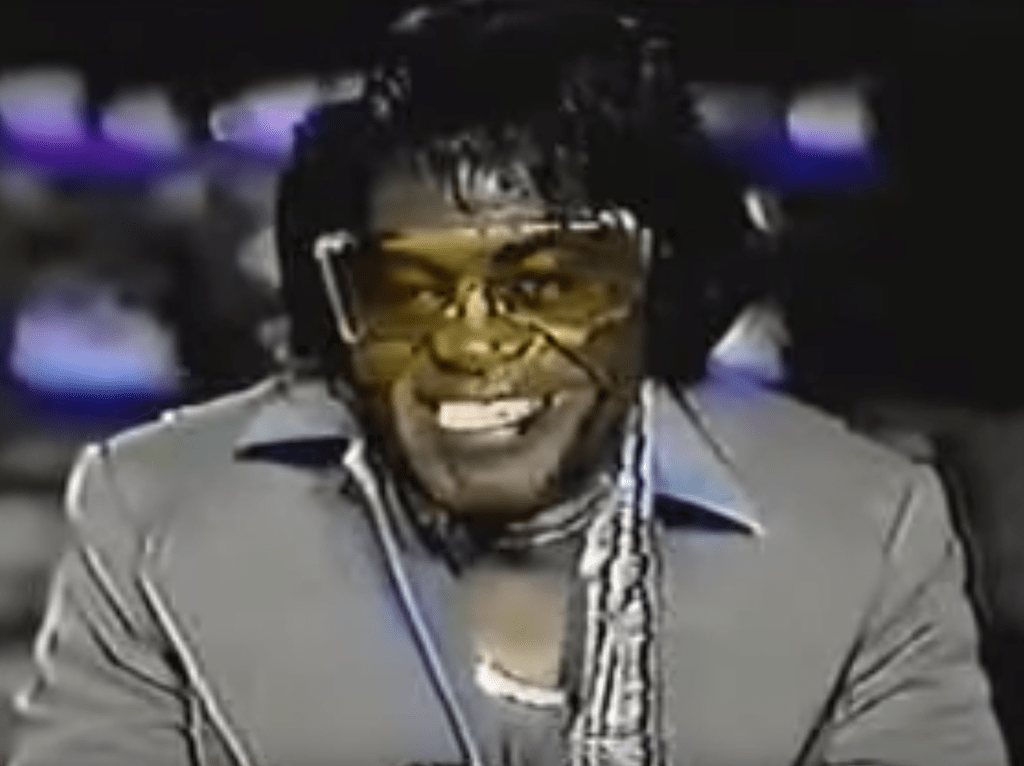 This 1986 CNN interview with James Brown is truly unique. When asked how he would respond if fans wondering about his recent relationship troubles, he stammered back, "I'm going to say I feel good! Papa's got a brand new bag! It's a man's world!" Memorably, he goes on to shout directly at Ted Turner ("where y'at, Ted?!"), the founder of CNN.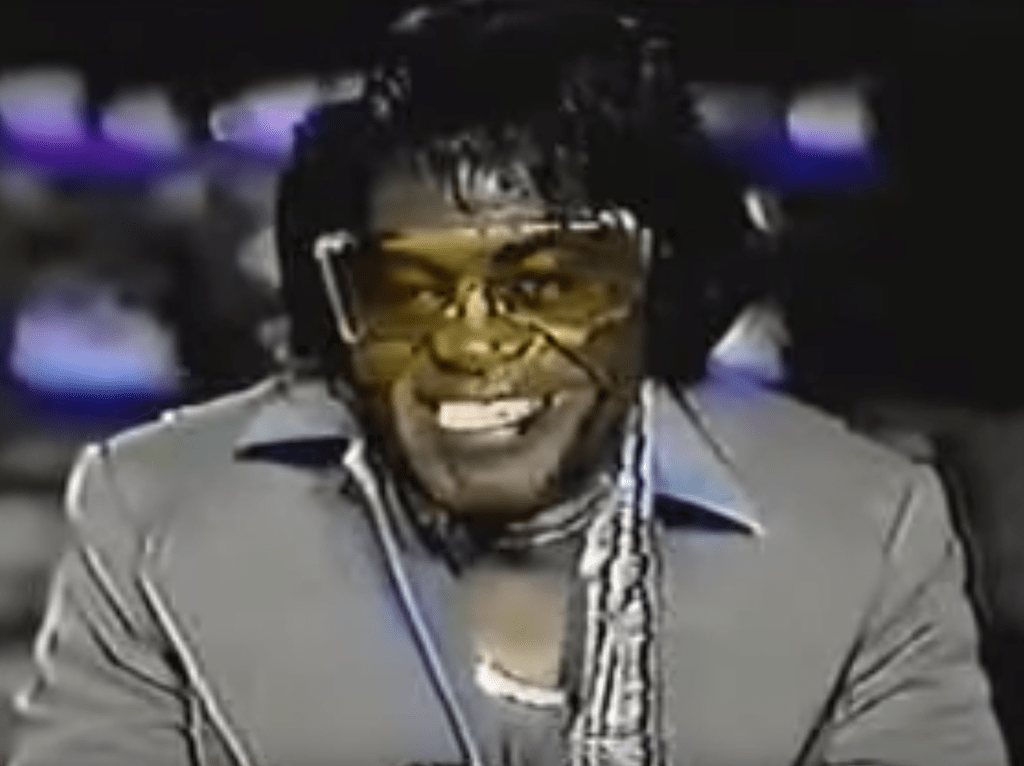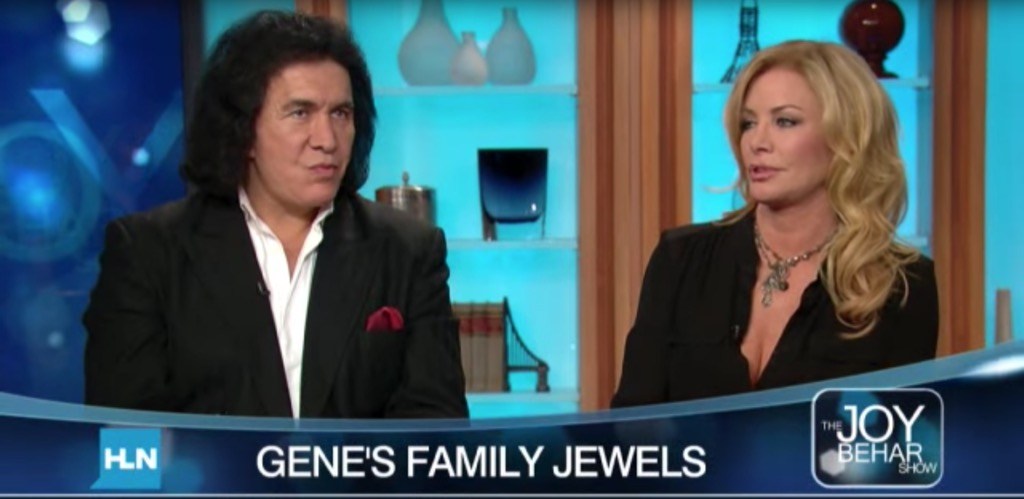 In retrospect it's a wonder Shannon Tweed made it through as much of this interview as she did. After all, she was sitting there listening to details about how her husband, Kiss's Gene Simmons, had sex with 5,000 women. When Joy Behar asked "How's your back, Gene?", it was the beginning of the end, especially when Simmons was tasteless enough to answer.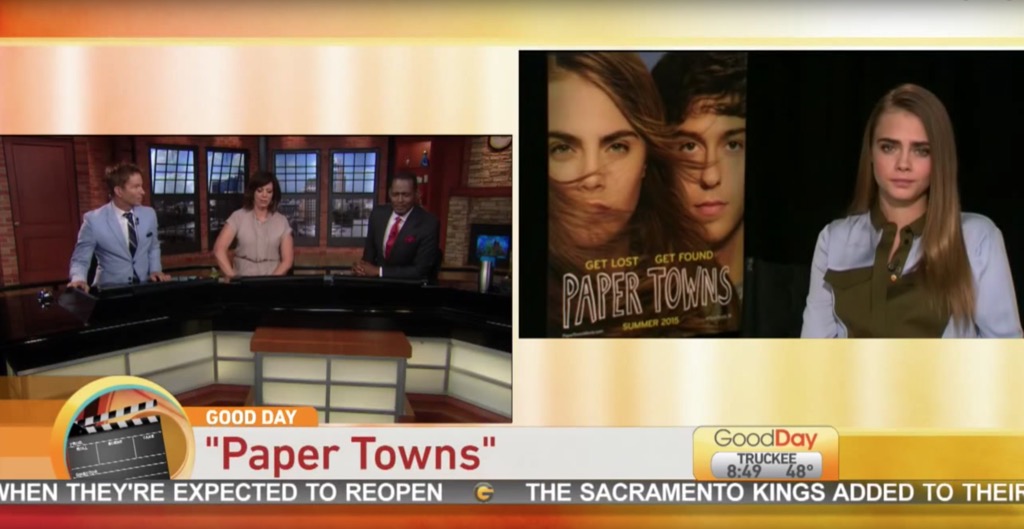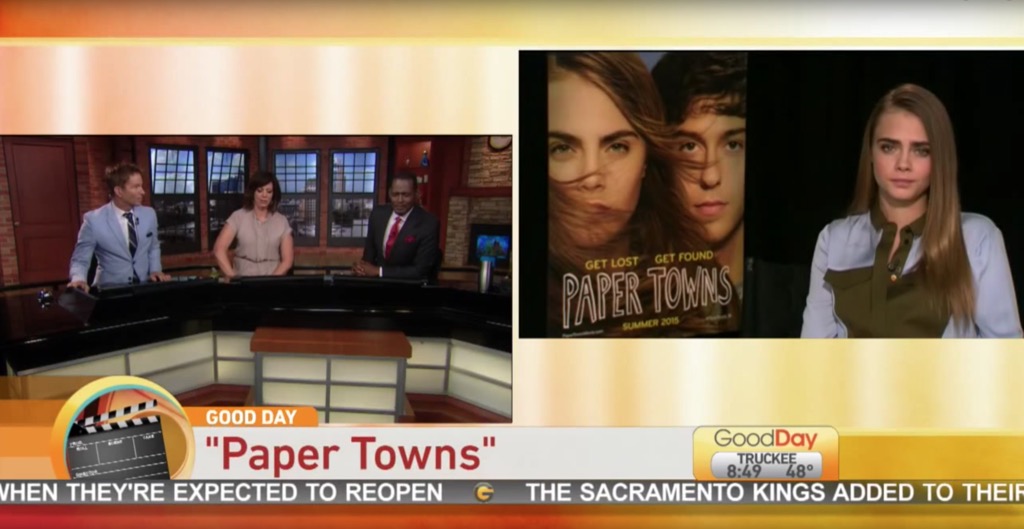 The anchors on Good Day Sacramento weren't amused with model and actress Cara Delevingne, who appeared on the show in 2015 to promote her film Paper Towns. She did admittedly looked unenthused to be there, but that maybe didn't justify the grilling from the surly morning news team, who asked if she actually read the novel that the movie was based on ("I kind of winged it," she agreed, sarcastically) and why she seemed "a bit irritated, (but) perhaps it's just us?" Delevingne, looking increasingly annoyed, replied with, "No, I think it's just you."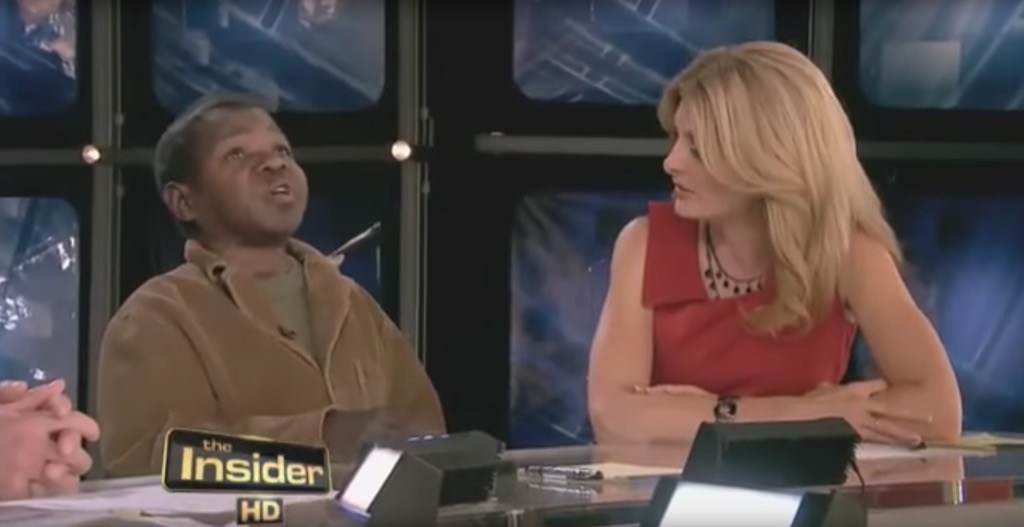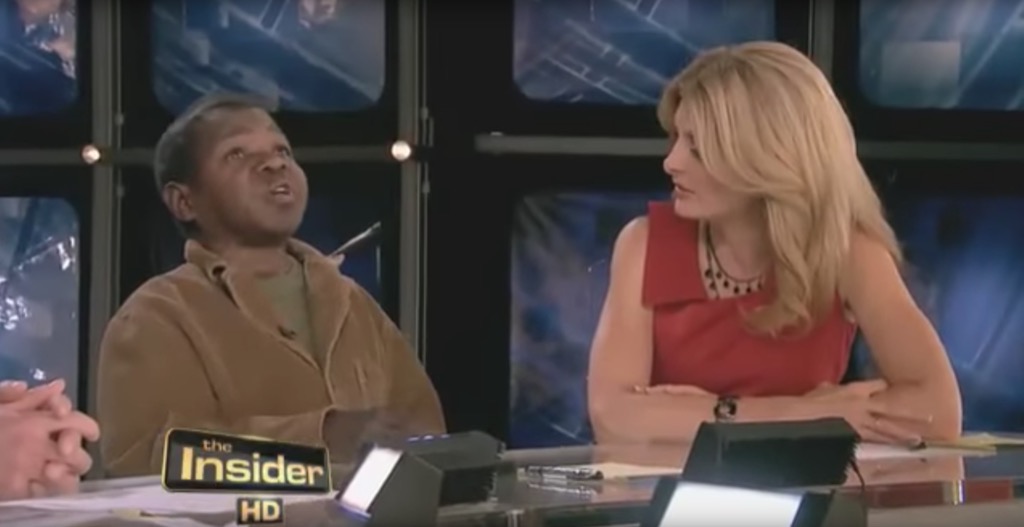 Gary Coleman did not go on The Insider in 2010 to be asked about accusations of domestic abuse. And if you don't believe him, well, prepare for some expletives and bizarre insults. "Walk off a plank and drown yourself in the ocean," he scolded the hosts. He continued by declaring that if they were to "drown tonight or get hit by a bus, I'm not gonna care."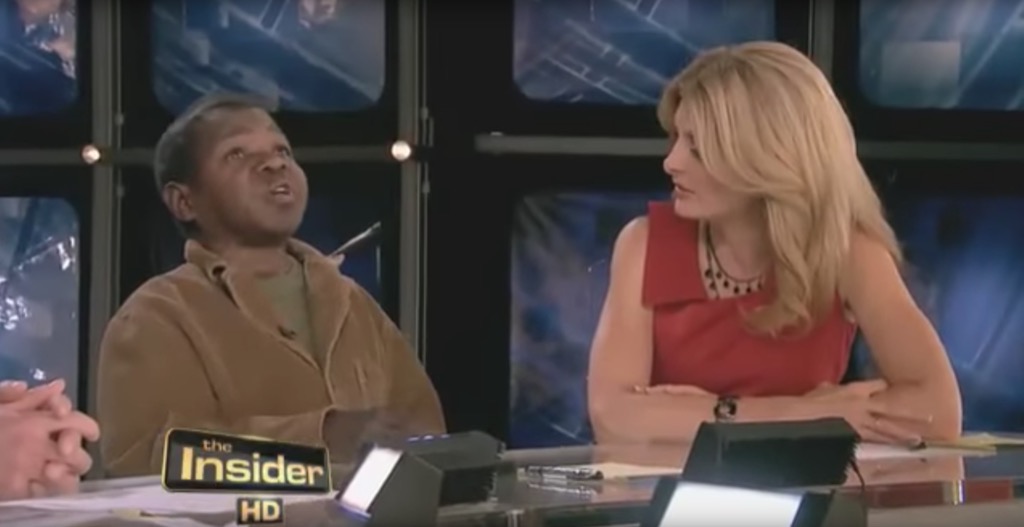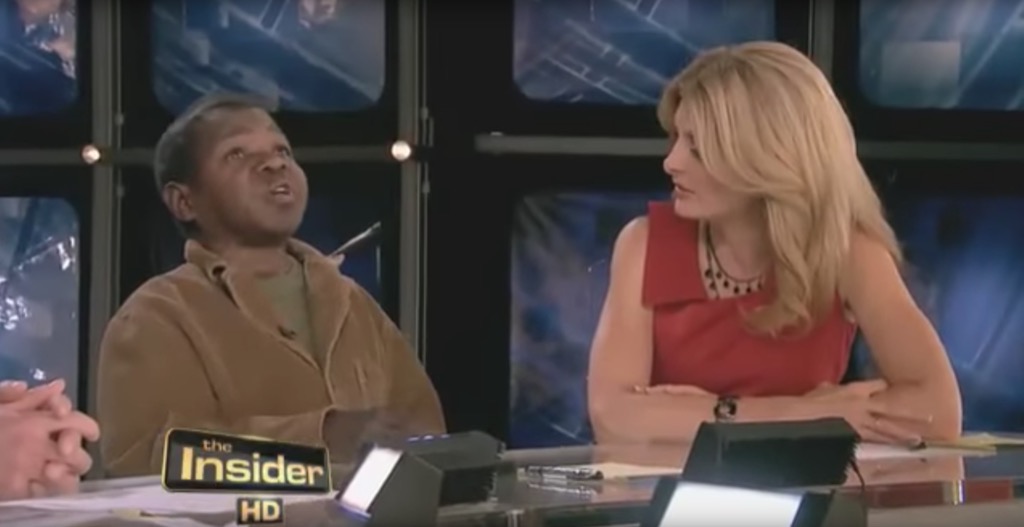 Imagine the late Robin Williams sitting down in the 90s for an interview with Irish puppets named Zig and Zag. Yeah, it went pretty much like you would expect. Picture, if you can, one of the puppets asking Mr. Williams, "You played Mork from Mork & Mindy, what in your opinion is the worst thing about being an alien?"
Let's just say that the interview gets increasingly weirder from there.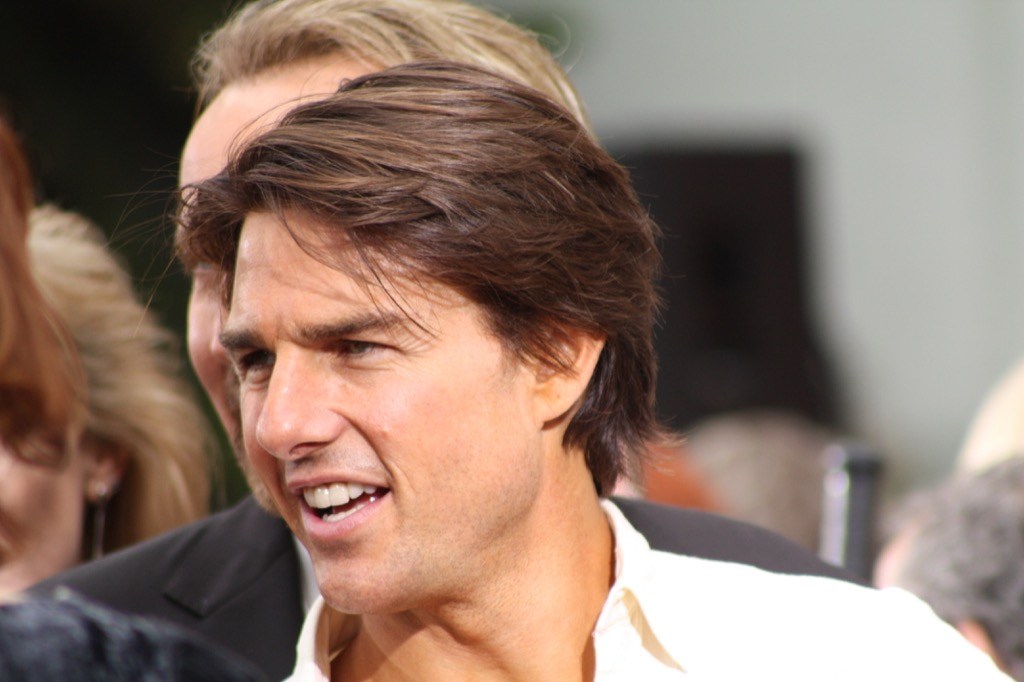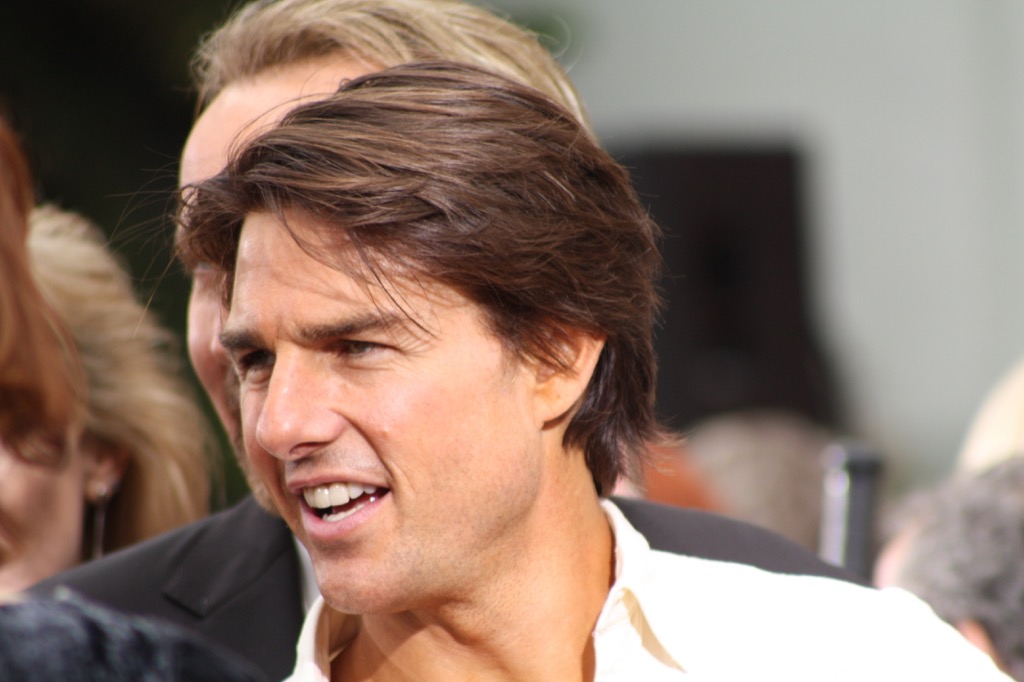 Who can forget the time His Cruiseness jumped on a couch on Oprah's show to scream his love for Katie Holmes? To paraphrase some news sites, it looked like he "lost his mind."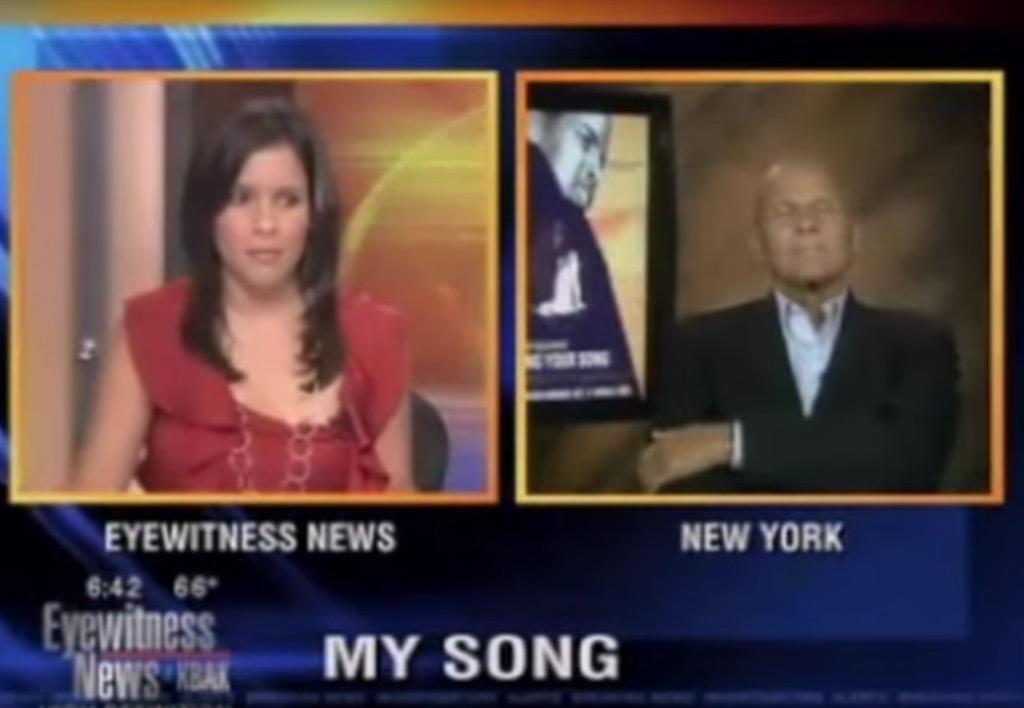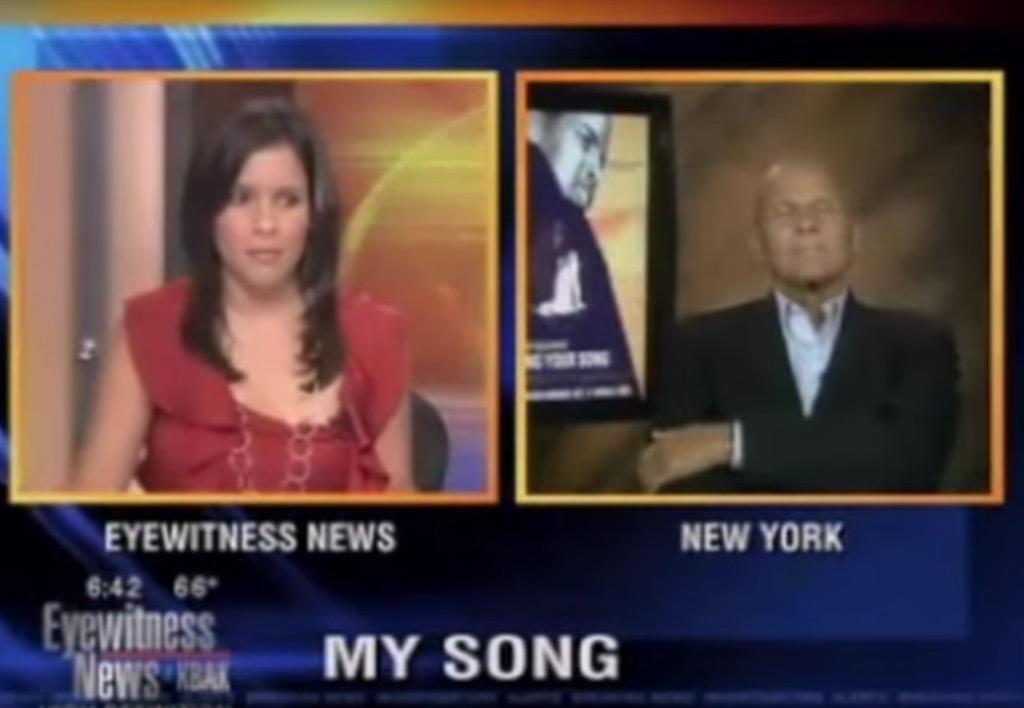 Listen, if we make it to 84 years-old, and we have to sit around on a satellite feed and wait for some local news anchors in California to ask us questions we've already answered dozens of times before, we'd probably take an early morning cat nap too. Although it was kind of cute when they wondered if he was meditating, and tried to rouse him with some serenading. Let the man sleep! You missed your window of opportunity, move on!
This is one of many, many reasons why Letterman was the best interviewer on late night TV. Paris Hilton, fresh off of her brief prison stay in 2007, clearly wanted to talk about something else during her Late Night interview.
"This is where you and I are different," Letterman told her, "because it's all I want to talk about." When some helpful audience member blurted out, "I love you, Paris," Letterman quipped to the hotel heiress, "Is that somebody you met in jail?"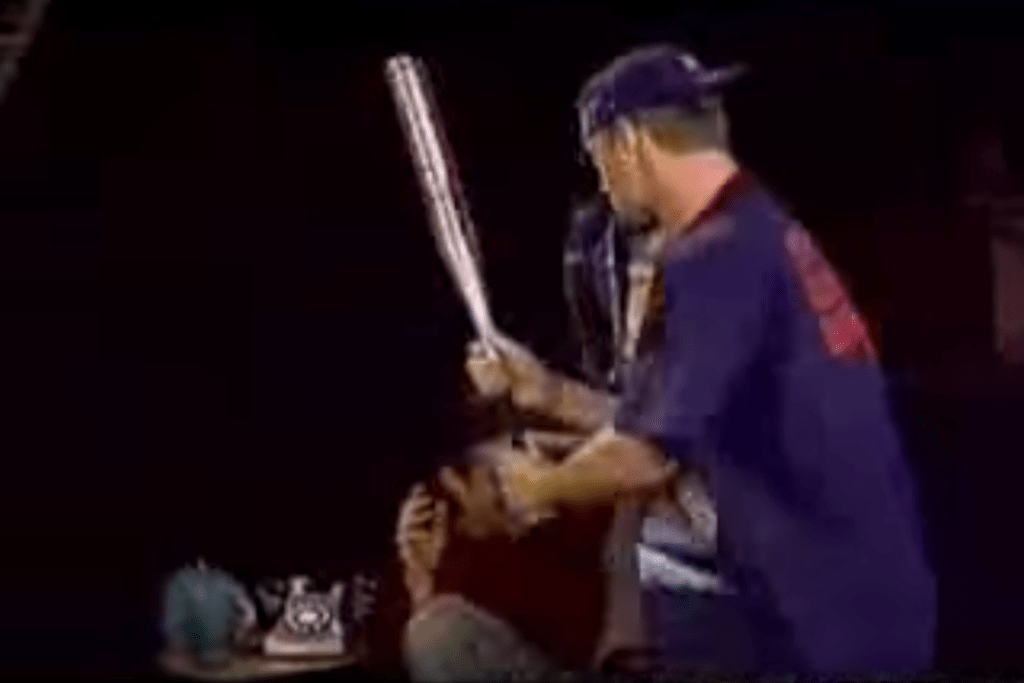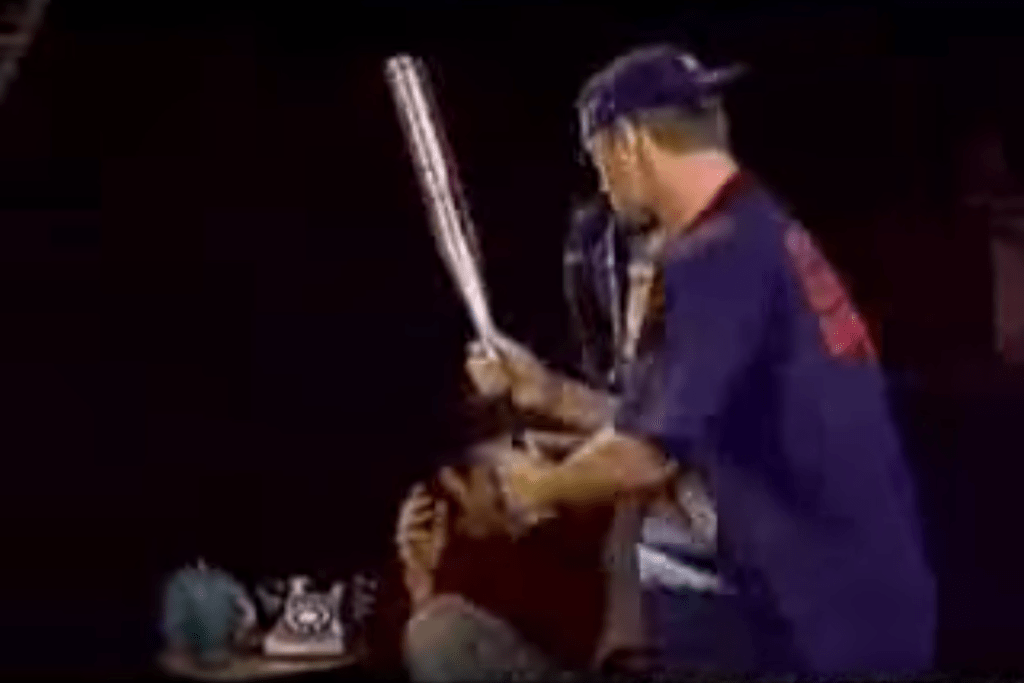 Just before Jon Stewart signed on as the new Daily Show anchor, he co-hosted a bizarre MTV "worst of" video countdown with comedy buddies Denis Leary, Janeane Garofalo, and Chris Kattan. The MTV Lame 25 invited Vanilla Ice to personally destroy a video copy of his 1990 hit "Ice, Ice, Baby," and he proceeds to do just that, as well as trashing the entire set with a baseball bat.
Garofalo said later that she was "genuinely afraid. I thought he was seriously going to get really angry on a channel that embraced him and then turned and mocked him." Nobody was hurt, and Vanilla was even kind enough to say "sorry Jon" when his bat almost made contact with the comedian's face.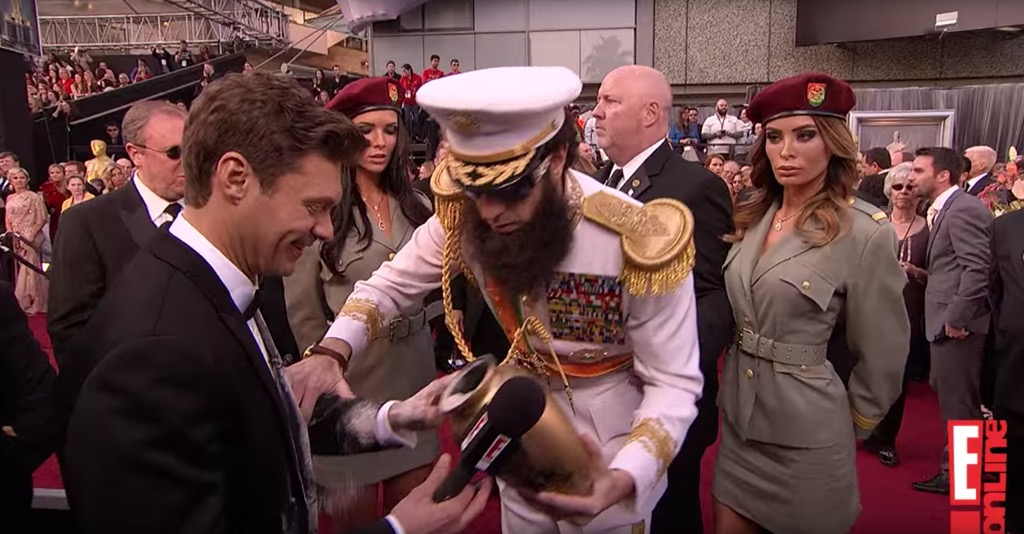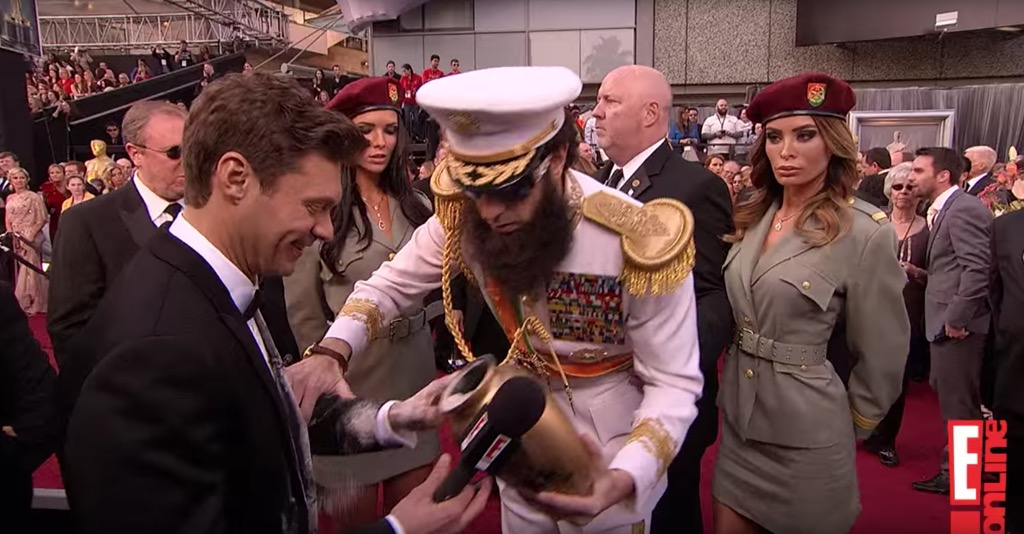 Ryan Seacrest should have been on high alert when Sacha Baron Cohen, better known for his alter-egos Ali G and Borat, walked over to his red carpet interview, at the 2012 Oscars, dressed like a dictator and carrying an urn. He explained that the urb contained the ashes of recently deceased North Korean leader Kim Jong-il.
"It was his dream to come to the Oscars and to be sprinkled over the red carpet and over Halle Berry's chest," Cohen explained. The ashes ended up being "accidentally" dumped on Seacrest's jacket instead.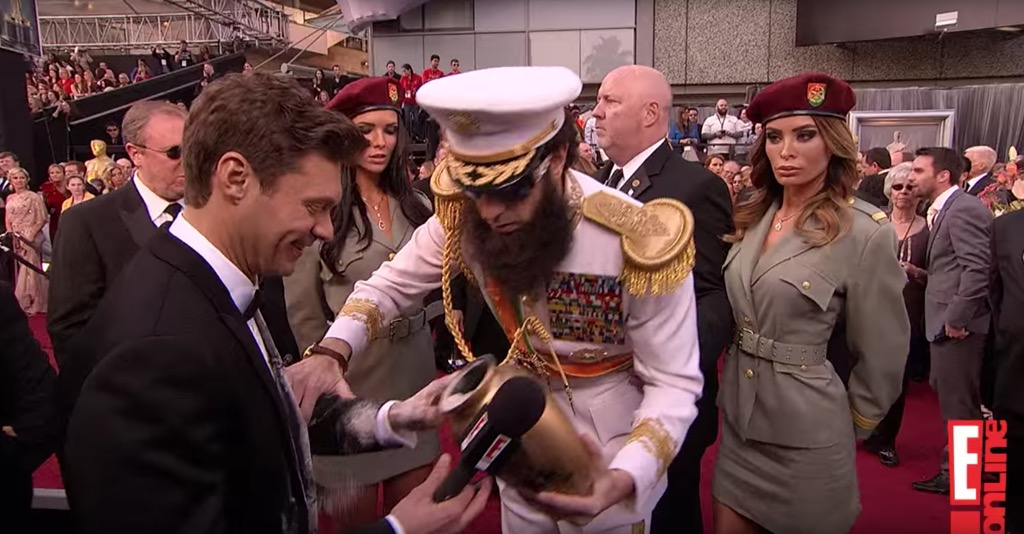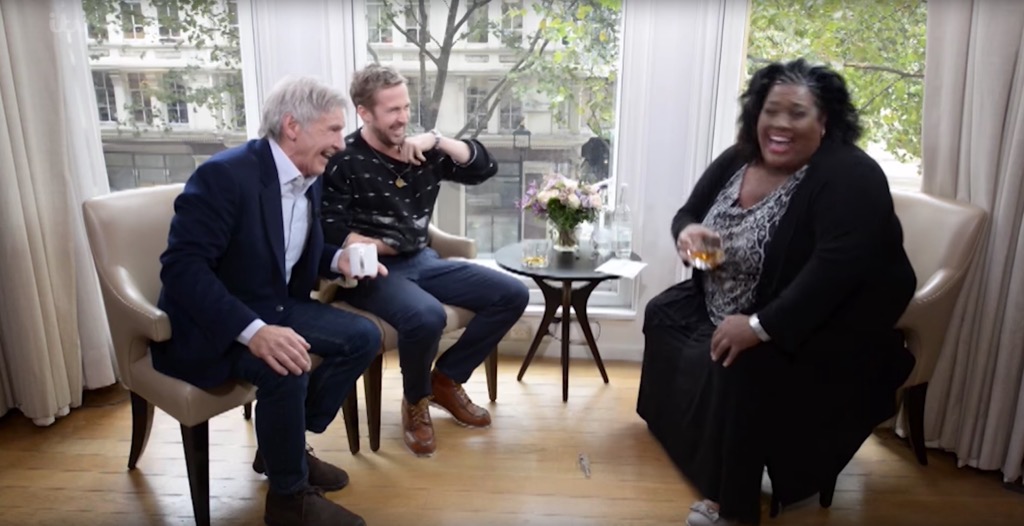 This interview between Blade Runner 2049 stars Harrison Ford and Ryan Gosling and a British TV journalist is proof that laughter is infectious. They sip of whiskey and giggle over nothing in particular. We don't really learn anything about the two stars — other than that Ford's singing is "like an angel pouring honey in your ear," according to Gosling — but it's still one of our favorite interviews ever.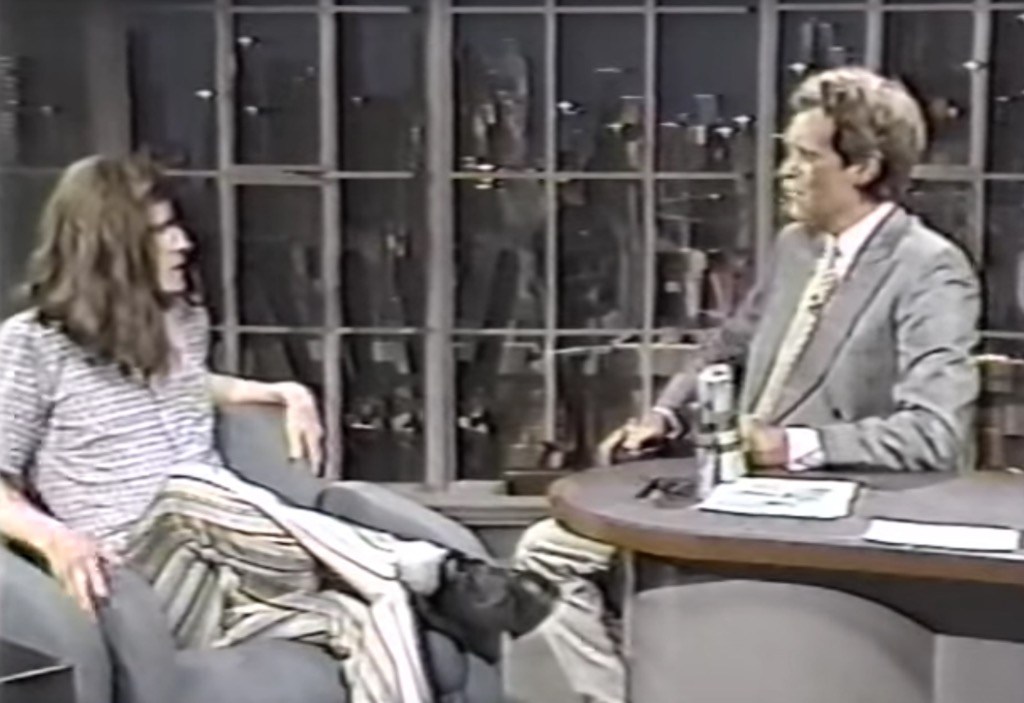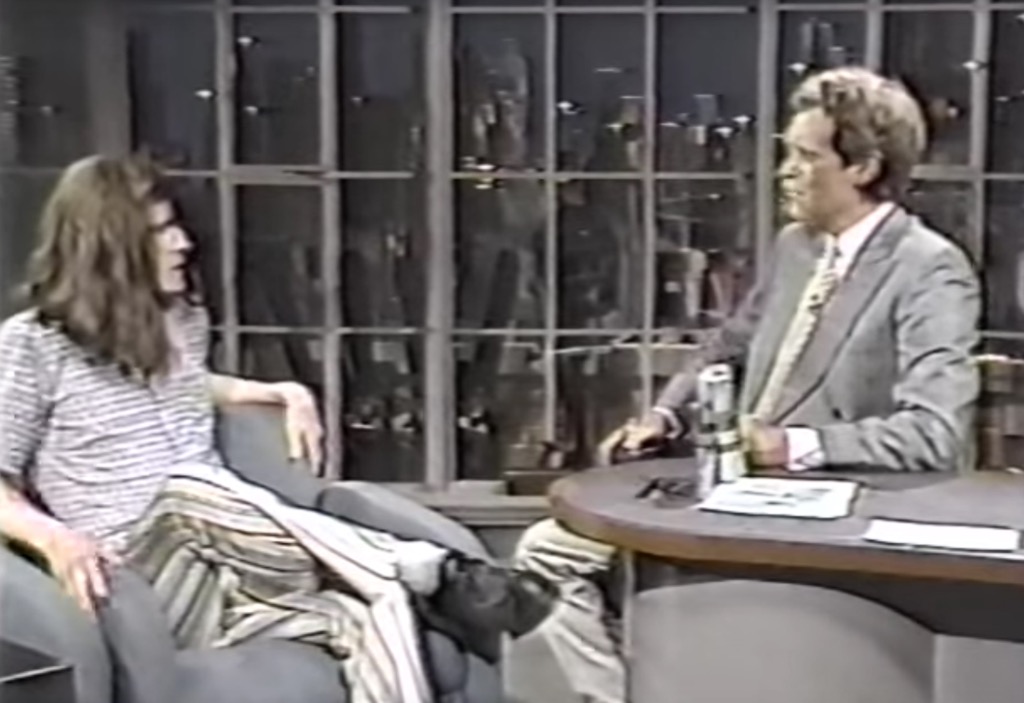 Was Crispin Glover as nervous and manic as he seemed during this 1987 interview with David Letterman, or was it all an Andy Kaufman-esque act? We have no idea, but when he started babbling, "I'm strong, I can arm wrestle. Do you want to arm wrestle?," and then nearly kicked Letterman in the head, the Late Night host seemed genuinely nervous.
To discover more amazing secrets about living your best life, click here to sign up for our FREE daily newsletter!
celebrities interview
Celebrity Interview: Questions and Answers - ALL ESL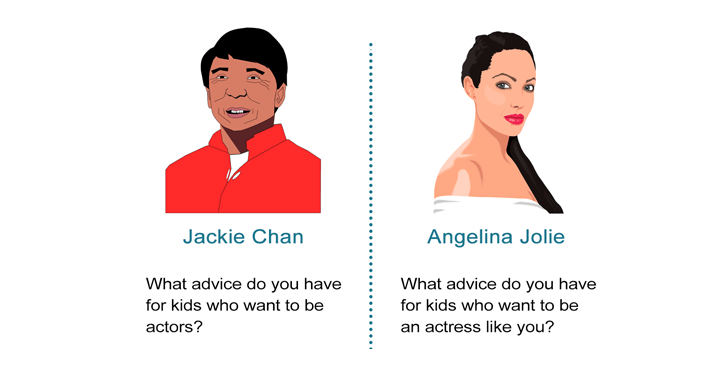 Celebrity Interview: Questions and Answers
Speaking > Dialogue      Time: 15 minutes      Difficulty: Medium
Have you ever wanted to be a celebrity? Today, you can put yourself in the shoes of a celebrity for a day and answer interview questions like a Tom Cruise.
This is why we've built a celebrity interview worksheet to smooth the dialogue for questions and answers. For example, we've included questions that you can ask when your partner pretends to be a celebrity.
Celebrity Interview Question Examples
What advice do you have for kids who want to be actors/actresses?
How would you describe yourself in 5 words?
What makes you smile and what scares you the most?
Are you planning to be in any other movies?
What is your greatest strength and weakness?
What type of movie do you like to act in the most?
Describe the next five years of your life, and your plans.
Related Dialogue Worksheets
If you need more dialogue worksheets like this celebrity interview worksheet, see our free printable activity sheets below.
The 10 All-Time Funniest Celebrity Interviews | BBC America
Celebrity interviews are a tricky affair. The stars involved are often midway through a lengthy promotional tour, a long way from home, and not in the mood for laughs or wacky gimmicks, which can lead to some famously tetchy encounters.
So it was with considerable relief last week when we saw this hilarious interview with Harrison Ford and Ryan Gosling. It started out straightforwardly enough: two chairs set up in a London hotel room, a set time limit, and mugs of tea for all.
After a minute or two of British TV presenter Alison Hammond's questions, however, Harrison and Ryan were reaching for an altogether different kind of refreshment…
The whole thing got us thinking — which are the funniest interviews out there, where the celebrity involved drops the act and just lets rip? Here are ten of our favorites.
10. Michael Caine does his best Michael Caine impression
Sir Michael Caine discussed his time in Korea, the Stanislavsky school of acting and crying on cue in this wide-ranging 2007 interview with British talkshow host Sir Michael Parkinson. The subject he got most worked up about, however, was all those terrible Michael Caine impressions.
9. Steve Carrell scares Ellen DeGeneres
The warmth between real-life friends Steve Carrell and Ellen DeGeneres is obvious in this clip from 2010, despite the latter's desperate desire for revenge. The reason? An earlier interview, where Steve got her good and proper.
8. Eminem in sense-of-humor shocker
Eminem has a somewhat formidable reputation, so it's no surprise that talkshow host Jonathan Ross began this 2009 interview on the back foot. For starters, he asked if he should call his guest "Eminem" or "Marshall" or "Slim," a question sure to get short shrift — until it didn't. It's fair to say no-one was expecting a Yoda impression.
7. Russell Brand hijacks Morning Joe
It's hard to pinpoint exactly what went wrong and when in this 2013 interview with the definitely un-messianic Russell Brand, but it's tempting to say it was right at the start. Russell certainly looks uncomfortable at the suggestion that presenter Mika Brzezinski doesn't know who he is, and it goes downhill from there, with Russell eventually berating his hosts on their lack of manners. Trust ol' Russ to make it funny though.
6. Mila Kunis is a freakin' good sport
In March 2013, British radio presenter Chris Stark was given ten minutes' notice that he'd be interviewing Mila Kunis about her new film Oz the Great and Powerful. The result was a line of questioning that barely referenced the film, and instead revolved around Chris's local pub, football club, a certain British chicken restaurant, and drinking games with his friends. He invited Mila to all four, getting "massive lad points" when she said she'd do her best to attend. Mila, on her part, said it was the "best interview of the day."
5. Bruce Willis vs. Stephen Colbert
Bruce Willis is a famously prickly character when it comes to interviews, for instance when this 2013 junket interview went badly wrong for Magic FM radio host Jamie Edwards. So this contretemps with Stephen Colbert looked extremely plausible when Bruce appeared on The Late Show in 2015 — until, that is, it didn't.
4. Zig and Zag meet their match in Robin Williams
Puppet aliens Zig and Zag haunted British TV in the 1990s, causing mayhem on various shows until they were given their very own interview slot in the daily morning show The Big Breakfast. Sequestered in an upstairs bathroom, their bonkers brand of questioning perplexed stars such as Robin Gibb, Mike Myers, and Aerosmith — until finally they met their match in the one and only Robin Williams.
3. Jack Nicholson interrupts Jennifer Lawrence
It's one thing to win an Oscar, and it's quite another to be hit on by Jack Nicholson live on camera. That's what happened to Jennifer Lawrence during an interview on Oscars night in 2013, and her face says everything there is to say, really.
2. Craig Ferguson Interviews His Old Mucker Peter Capaldi
In November 2009, long before he was even announced as the twelfth Doctor, Peter Capaldi appeared on The Late Late Show with Craig Ferguson to promote new film In the Loop, in which he reprised his role of the foul-mouthed Malcolm Tucker. Peter and Craig go way back, of course — and the result is a hilarious trip down memory lane.
1. Will Smith on Graham Norton
Okay, so it's not an interview as such, although Will's chat with Graham was as funny as usual. What happened next though had us — not to mention fellow guests Bradley Cooper and Heather Graham — grinning from ear to ear. First, Will and his son Jaden Smith got the audience on their feet, then introduced DJ Jazzy Jeff for a rendition of the theme tune to The Fresh Prince of Bel Air. And if that wasn't enough, even Carlton (Alfonso Ribeiro) got in on the act. Just try and keep a straight face watching this.
Any absolutely hilarious interviews we missed? 
Read More Filed Under: Bruce Willis, Craig Ferguson, Ellen DeGeneres, Eminem, Graham Norton, Interview, Jack Nicholson, Jennifer Lawrence, Mila Kunis, Peter Capaldi, Robin Williams, Russell Brand, Sir Michael Caine, Stephen Colbert, Steve Carrell, Will Smith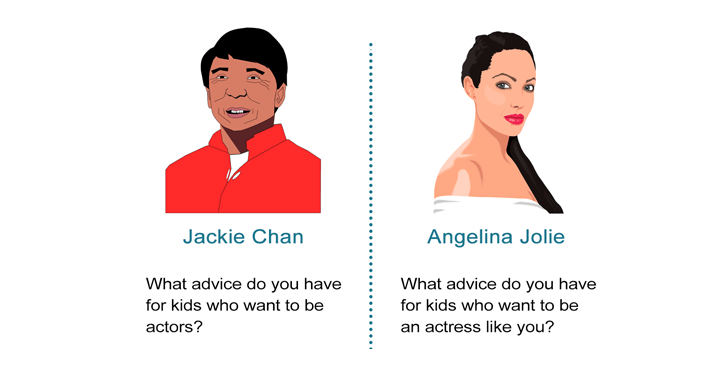 By Kat Sommers Kat is a freelance writer for Anglophenia.
Related Stories
Did you like the video? Like or tell your friends!