Heidi klum saves son henry
Heidi Klum Saves Son, Two Nannies From Drowning

Heidi Klum really is superwoman! The 39-year-old is a model, "Project Runway" host, "America's Got Talent" judge, mom of four, and now … lifesaver.
Klum was snapped pulling 7-year-old son Henry out of the water on a Hawaiian beach on Sunday after he was pulled into the sea by a big wave. Klum also helped rescue two nannies who were in the water with Henry.
In the pics, which you can see here, a bikini-clad Klum is seen pulling Henry back to shore by the arm, swimming out to sea, and helping to drag both nannies out of the water, one of whom appeared to be panicked and gasping for air. Klum's bodyguard boyfriend Martin Kristen was most likely involved in the rescue too and in one photo looks to be catching his breath after coming out of the ocean.
"We got pulled into the ocean by a big wave. Of course, as a mother, I was very scared for my child and everyone else in the water," Klum said in a statement to media outlets on Monday. "Henry is a strong swimmer and was able to swim back to land. We were able to get everyone out safely."
The German-born beauty has spent the last week vacationing on the Hawaiian island of Oahu with Henry; her other three children, Leni, 8, Johan, 6, and Lou, 3; her parents, Erna and Gunther, and boyfriend Kristen. Last January Klum announced that she musician Seal, her husband of almost seven years, were divorcing.
According to Justin Fujioka, chief meteorologist for Hawaii's ABC affiliate KITV, the island's North Shore -- where Klum and her family were staying -- was under a high surf advisory all weekend long. Thanks to a storm to the island's north, large swells rolling in and onshore winds made the ocean even choppier than usual. Signs were posted on beaches warning swimmers, but Henry might not have necessarily been swimming when he got swept out.
"That's the nature of these swells," says Fujioka. "I actively tell people to stay away from the shoreline even when you're standing in just a foot of water or are standing on dry sand. A rogue wave can still come by and sweep you away." Fujioka adds that lifeguards performed three different active rescues on Sunday on the neighboring island of Kauai.
With everyone safe and sound, the family was fortunately able to enjoy their Easter Sunday in the South Pacific. Klum even tweeted out a pic of colorful eggs on a rocky beach, writing: "Frohe Ostern .....Happy Easter!"
Luckily the day did turn out to be a happy one!
More Celebrity Features on Yahoo!:
'Glee' Cast Tweets Support For Cory Monteith
Rachel Bilson Opens Up About Hayden Christensen
Celebs on Spring Break 2013

heidi klum saves son henry
Heidi Klum helps save her son Henry from drowning
April 02, 2013 - 15:07 BST hellomagazine.com Heidi Klum involved in dramatic beach rescue as she helps save son and two nannies from drowning
From supermodel to superhero mum — Heidi Klum was involved in a real life Easter rescue mission at the weekend, when a family break at the beach took a terrifying turn. The German beauty helped save the life of her son Henry, and two nannies, when a dangerous riptide threatened to pull them out to sea.
Heidi and her bodyguard boyfriend Martin Kristen sprung into action to rescue her oldest son at the beach on the Hawaiian island of Oahu. Two of her nannies also got into trouble as they tried to help Henry and had to be helped out of the water.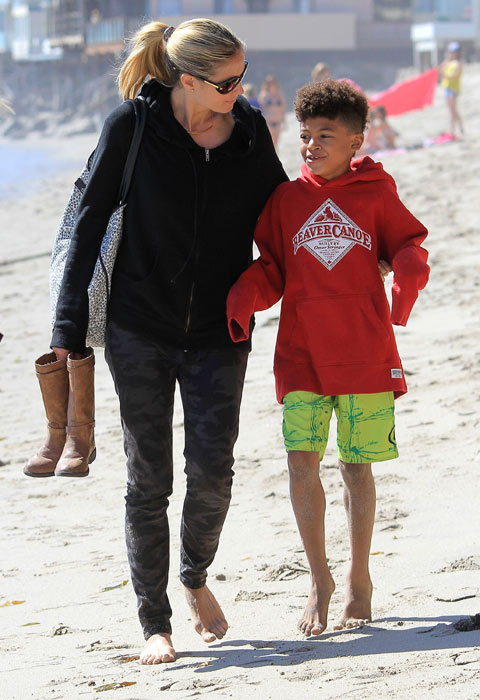 VIEW GALLERY
CLICK ON PHOTO TO ENLARGE
In a statement released after the dramatic incident, Heidi, 39, explained, "We got pulled into the ocean by a big wave. Of course, as a mother, I was very scared for my child and everyone else in the water.
"Henry is a strong swimmer and was able to swim back to land. We were able to get everyone out safely."
Pictures of the scary episode were captured by Entertainment Tonight.

Heidi is a mother to four children; Henry, Johan, Leni and Lou. In January 2012, she and ex-husband Seal announced their were separating after seven years of marriage. She has been dating Martin since September 2012.
Heidi Klum Saves Son Henry from Drowning in Terrifying Evil Riptide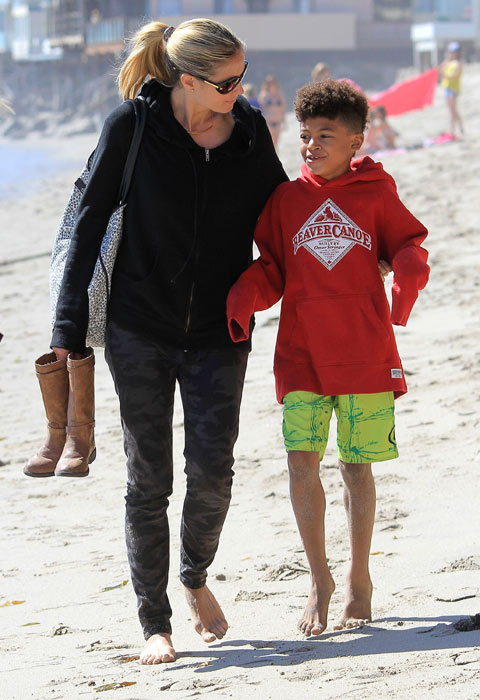 First order of business, when I become lady-president, THE OCEAN WILL BE ILLEGAL. Seriously, that shit is just a big wet menace full of teeth and ghosts. And the other day it tried to steal away Heidi Klum's son Henry and both of his nannies, prompting AquaKlum to jump in and save their lives in some epic mom-heroics.
Heidi Klum is counting her blessings. While vacationing in Oahu, Hawaii, March 31, the German supermodel's 7-year-old son, Henry, was swept away in a large riptide along with two nannies. Klum, 39, and her bodyguard boyfriend Martin Kirsten sprang to action and saved the trio from drowning.

"We got pulled into the ocean by a big wave. Of course, as a mother, I was very scared for my child and everyone else in the water," the Project Runway host tells Us Weekly in an exclusive statement. "Henry is a strong swimmer and was able to swim back to land. We were able to get everyone out safely."
Advertisement
I'm just saying. The ocean. Abolish it. (To clarify: I am not actually saying that.) [Us]
---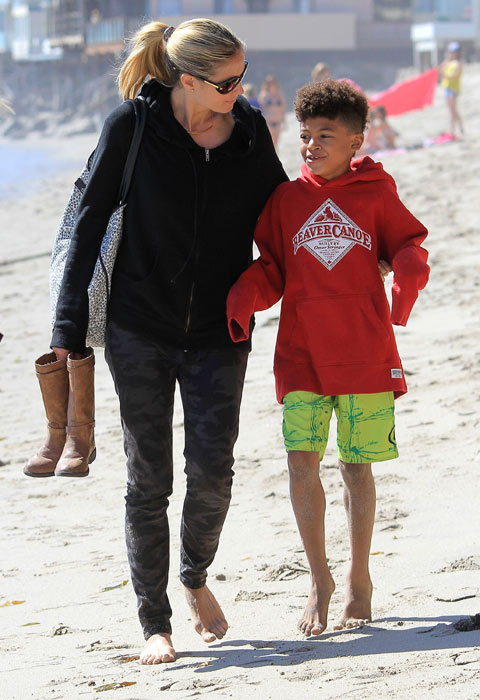 Advertisement
Angelina Jolie has opened an all-girls school just outside of Kabul, Afghanistan.
Angelina picked the village as the site of the school due to its high refugee population-regional fighting caused many locals to flee when their homes were destroyed, but since the collapse of the Taliban regime, families are slowly starting to return to the once-devastated area.)

The school itself currently educates between 200 and 300 girls and has already proven to have a huge impact on the local community.

Meanwhile, Jolie's not stopping there, and already has plans to open other similar institutions, vowing that this will be just the first of many. As for how Brad Pitt's fiancee is bankrolling her goodwill gesture, Jolie is releasing her personally designed jewelry collection, the Style of Jolie, to retail stores for the first time. She will use the profits from the line's no doubt hefty sales to build even more schools around the world.
Advertisement
Yay, celebrities sometimes! [E!]
---
Beyonce and Andre 3000 are going to do a duet of Amy Winehouse's "Back to Black" for the Great Gatsby soundtrack! This is exciting to me!
Jay-Z is producing the soundtrack, which will be released by Interscope Records. "It's a very different take on 'Back to Black,'" a record company said.

This is Beyonce and Andre 3000 second time working together. They first collaborated on Bey's 2011 single, "Party."
Advertisement
APPROVED. By lady-president West. [E!]
---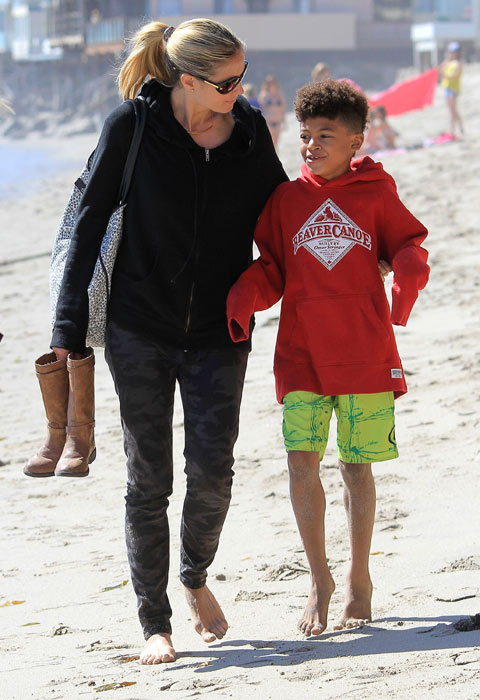 Advertisement
Nicki Minaj warned an eliminated Idol contestant to "be gracious" after he accused her of girl-on-boy sexism.
"I don't know, she has a lot of girl power...Maybe she just wants a girl to win, you know?" he continued. "Just the fact that the girls have been so consistent with their songs and have such higher votes — I mean, the girls are amazing this year, and I have nothing bad to say about any of the contestants. As for the judges, you know..."

..."America r the 'potential' fans...u MUST win them over," she tweeted later in response to Velez's insinuations that she had been too hard on him. "'Saves' are bulls—t and they know it. Those girls are just too good this year."

"Send the judges some flowers and a card. If Curtis [Finch Jr.] didn't get SAVED, NONE of u get saved! Best male voice of the SEASON!!!!!!!!!!! #TruthTea," she continued. "Trust me BEW BEW. If EYE didn't want u in that TOP, YOU wldnt have been in that TOP. Fought for ALL of you. So just simply b gracious."
Advertisement
It's like two random word generators going through a divorce. [Us]
---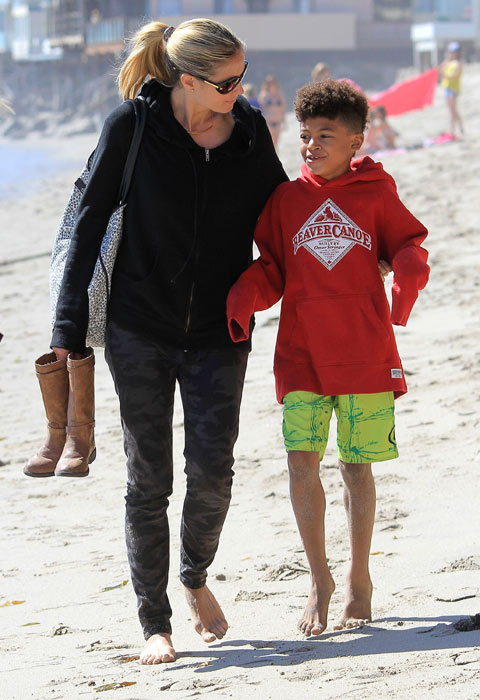 Advertisement
It appears that the death of Buckwild star Shain Gandee (and two passengers) may have been due to carbon monoxide poisoning after Gandee's truck became stuck in mud.
Officials have retrieved Shain's red Ford Bronco from the muddy pit where it was discovered ... and judging by pictures of the car taken at the scene, it appears the vehicle was submerged past the window.

The photos seem to support the theory that the passengers died from carbon monoxide poisoning because the deadly fumes from the car could not escape through the tailpipe, which was completely submerged in the mud.
Advertisement
Condolences all around.
Here's BuzzFeed with a quick round-up, in case you have no idea what Buckwild is. [BF]
Advertisement
Meanwhile, the mayor of Charleston, West Virginia—where Buckwild is filmed—says he hopes the show will be canceled following Gandee's death. [TMZ]
---
Jennifer Garner and Brooke Burke-Charvet are in carpool together and I'm dead now because cuuuuuuuuuuute. [E!]
Flavor Flav's fiancee, Liz Trujillo, is currently hospitalized after overdosing on painkillers. Sources say the overdose was accidental and she'll be released from the hospital soon. [TMZ]
More Duggars in the chute. [E!]
Patti Smith wears a Mockingjay pin! [HuffPo]
Was Amanda Bynes lashing out at Hairspray costar Nikki Blonsky with her cryptic/depressing "I plan on ignoring you on twitter and in life forever" tweet? [BuzzFeed]
Here is Taye Diggs being terrible at rapping. [EW]
Robert Pattinson and Kristen Stewart spent Easter together, probably giving side-eye to a ham or something. [ShowbizSpy]
Jeff Dunham is safe. [DigitalSpy]
Seth Rogen and James Franco released a fake Pineapple Express 2 trailer because they are mean. [E!]
Advertisement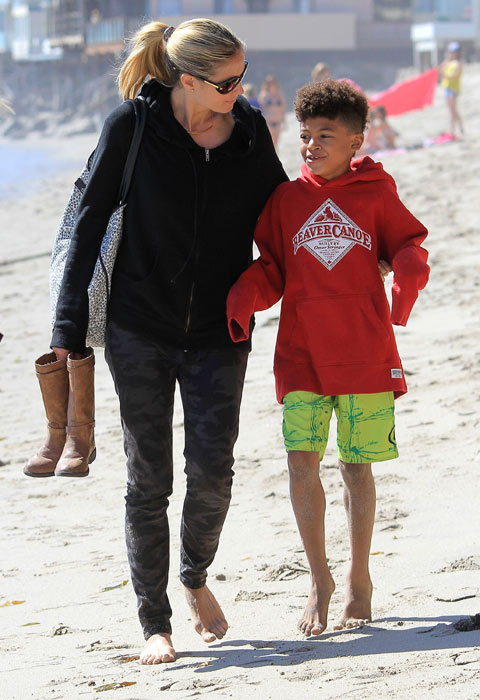 I hope your heart is wearing elasticated pants because it's about to grow THREE SIZES THIS DAY.
Heidi Klum Rescues Son Henry From Drowning In Ocean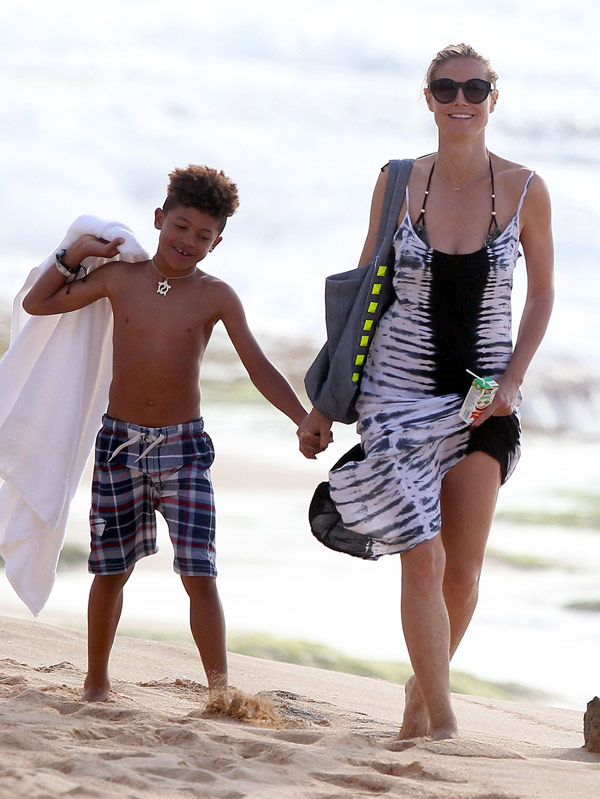 The TV host saved her 7-year-old son after he was swept away by a large wave off a beach in Oahu, Hawaii on March 31. Forget being a supermodel — she's a supermom!
The gorgeous Heidi Klum, 39, is currently vacationing in Oahu, Hawaii with her boyfriend, Martin Kristen, and her children – Leni, 8, Henry, 7, Johan, 6, and Lou, 2. The fun took a turn for the terrible, though, when Henry and his nanny got pulled into the ocean by a riptide, forcing Heidi to go into rescue mode and save them all with the help of her boyfriend!
Heidi Saves Her Son From Drowning
"We got pulled into the ocean by a big wave," the mother of four tells Us Weekly. "Of course, as a mother, I was very scared for my child and everyone else in the water. Henry is a strong swimmer and was able to swim back to land. We were able to get everyone out safely."
This hot mama proved she is more than a pretty face by showing off her swimming skills and rescuing her son and his nanny! Before the incident occurred, the family was enjoying a nice Easter, hanging out on the beach. Heidi even tweeted "Happy Easter!" as the caption to a picture of a whole bunch of colorful Easter eggs that were placed all around the beach!
Heidi Klum Needs A Break
Now with the disaster averted, everyone is probably happy to get back to their vacation, although they'll probably need a whole new vacation after all of that excitement! Heidi and her family have been in Hawaii since Mar. 24, but it is well-deserved after all of the work she's been doing. Between video shoots, hosting, and news that she is the newest judge for America's Got Talent, Heidi needs all the vacation and family time she can get!
We're glad everyone was able to get out okay and we wish the best for the rest of their vacation!
What do YOU think of Heidi's heroic actions, HollyMoms? Let us know in the comments!

— Rachael Ellenbogen
Did you like the video? Like or tell your friends!