Barbican benedict cumberbatch hamlet
'Hamlet' at the Barbican guide
It's finally here: Benedict Cumberbatch as Hamlet at the Barbican. The biggest theatre event of the year pairs Shakespeare's greatest play with the most famous British actor in the world right now. Benedict Cumberbatch is starring as Hamlet and it will have his army of fans (and most of us normal people) excruciatingly excited. 
Our handy hub should answer your every 'Hamlet'/Cumberbatch question. Here's some just for starters, in case you've been under a rock for the last year:
When is 'Hamlet' at the Barbican?
'Hamlet' opens August 5 and runs until October 31, 2015
Where is 'Hamlet' at the Barbican?
It's at the Barbican theatre inside the Barbican Centre, near Mooragate.  
What is 'Hamlet' at the Barbican?
The greatest play ever written, duh. See our 'Everything you wanted to know about 'Hamlet'' guide below.
Can I still get tickets to 'Hamlet' at the Barbican?
'Hamlet' is completely sold out, but there are ways and means to get in. See below. 
barbican benedict cumberbatch hamlet
Review: Benedict Cumberbatch in 'Hamlet'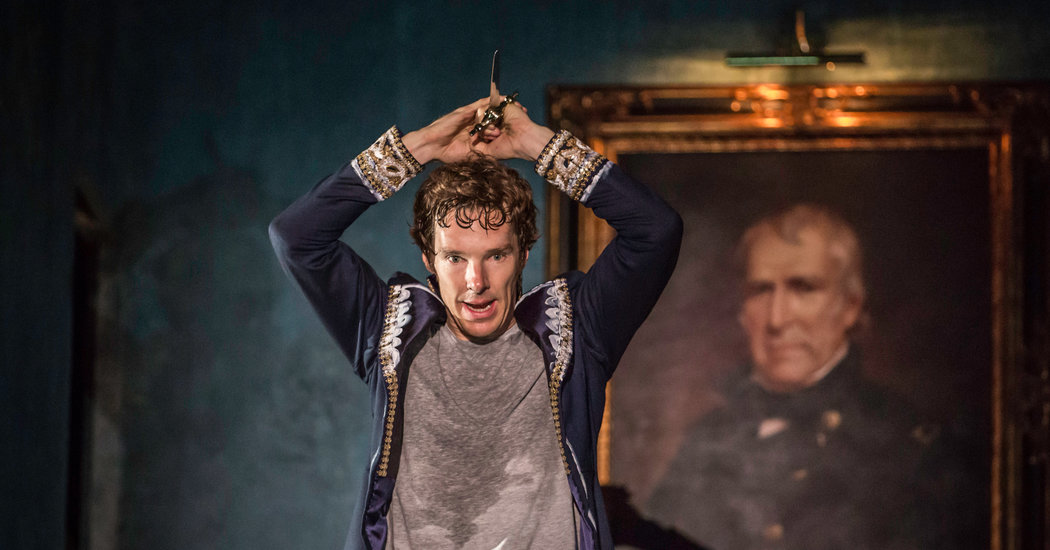 LONDON — He is, he complains sulkily, "too much in the sun." That is correct on so many levels.
When the title character of "Hamlet" offers this self-diagnosis early in the highly pictorial production that opened on Tuesday night at the Barbican here, the image matches the word. For the Prince of Denmark is at that moment standing at the exact center of a lavishly appointed banquet table. And while it is presumably nighttime, the sun's rays seem to have followed him there, and haloed him.
It's not just that he's the only one wearing black, or scowling, that sets this guy apart. He is cocooned in his own special (and literal) radiance, the celestial equivalent of a spotlight devised by the lighting designer Jane Cox. He looks, for all the world, like a saint in an old-master painting, embracing both martyrdom and apotheosis.
Well, what better way to frame an actor whose appearance in Shakespeare's best-known tragedy has turned the Barbican into an international shrine? That actor, of course, is Benedict Cumberbatch, star of stage, screen and "Sherlock," and the object of a vast, worshipful cult whose raison d'etre I have never quite fathomed. (I think you might have to be female to fully understand.)
Before I go any further, let me say that Mr. Cumberbatch is good enough as Hamlet to make me wish he were even better. But about that blinding glare that has fallen upon him and this production, which has been staged with stately pomp and madcap flourish by the director Lyndsey Turner ("Machinal" on Broadway) and the set designer Es Devlin.
When it was announced more than a year ago that Mr. Cumberbatch would be taking on the most coveted role in the canon, tickets sold out almost immediately. Since then, the Cumberbatch Hamlet (those words do not roll easily off the tongue) has been the wonder of the English-speaking world. Even before the show began previews, there were Web and newspaper essays aplenty about how Mr. Cumberbatch might interpret Hamlet, whether he had earned the right to do so and how silly we all were for caring so much.
And once previews started several weeks ago, frantic dispatches from the production's front lines emerged in blitzkriegs of tweets and headlines. Overeager fans were snapping photos during the show! Two ignoble London newspapers had writers review the production long before its official opening! Other publications a) lambasted and b) saluted said papers for doing so!
It began to seem as if stupefying fame surely qualified as one of the slings and arrows of outrageous fortune, and that this Hamlet would wrestle as much with the shadow of his portrayer's celebrity as with the usual issues of vacillation, procrastination and suicidal tendencies.
It thus pleases me to report that at the (officially sanctioned) critic's preview I attended, everyone behaved impeccably. There was never any hint of Dionysian communion between idol and idolators. There wasn't even entrance applause for Mr. Cumberbatch, whose Hamlet (in this rejiggered version) is seen onstage alone (listening to Nat King Cole singing "Nature Boy") in the show's opening moment. What's more, the audience sat, silent and respectful, until the final curtain, a brisk three hours later. Nobody ever seemed restless.
Nor should they have. Full of scenic spectacle and conceptual tweaks and quirks, this "Hamlet" is never boring. It is also never emotionally moving — except on those occasions when Mr. Cumberbatch's Hamlet is alone with his thoughts, trying to make sense of a loud, importunate world that demands so much of him.
Eschewing the chic black-on-black minimalism of London's last celebrity heartthrob "Hamlet" (starring Jude Law, directed by Michael Grandage), Ms. Turner's version is an extravagantly royal affair. Ms. Devlin has created a grand, cavernous stateroom in a Danish palace that has seen better days but still looks intimidating. (Katrina Lindsay's costumes mix timeless ceremonial uniforms with 21st-century sportswear.)
The photo-realist detail of the set might lead you to expect a purely naturalistic production. But wait. This kingdom comes equipped with king-size symbols. So when Hamlet decides to feign madness (to lay a trap for his wicked uncle, Claudius, played by Ciaran Hinds), he dresses up like one of those giant toy soldiers he keeps in what appears to be his childhood playroom, along with what looks a big bouncy castle.
When Claudius sends Hamlet to his death (or so he thinks) in England at the end of the first half, his announcement of these evil plans is accompanied by a tempest of flying detritus. When the audience returns after intermission, the stage is covered in ash and rubble, as if Denmark had been bombed by its enemy, Norway.
All of this looks pretty fabulous, but it doesn't always correspond to what's happening. And some of the interpolations are seriously irritating.
Why, for instance, after Hamlet announces he is going to put on "an antic disposition" (that is, feign madness), does he rummage through a trunk with his ditsy girlfriend, Ophelia (Sian Brooke), in search of a fitting disguise? This would seem to imply that Ophelia is in on the deception, but nothing that follows justifies that theory. And why is Ophelia always photographing objects in close-up with a boxy camera? Is this meant to be a literal interpretation of her stunned lines about having to "see what I have seen"?
Oh, I don't know. But when a director throws out such tantalizing gimmicks, she had better be prepared to follow through on them. Here they just seem like avant-garde window dressing.
The supporting cast — I use the term advisedly — scarcely registers throughout except as mobile scenery, though Mr. Hinds's soft-talking, "Godfather"-like Claudius is at least a defined character. The women in Hamlet's life — Ophelia and his mother, Gertrude (Anastasia Hille) — are such whispery, self-effacing presences you expect them to evaporate.
Though embodied by the fine actor Jim Norton, Polonius has had his garrulous part so shrunken that it's hard to credit him as the pompous windbag of others' descriptions. Leo Bill's bespectacled, backpack-toting, plaid-shirted Horatio is a geeky sight gag. And it's never a good sign when those immortal nonentities Rosencrantz and Guildenstern (Matthew Steer and Rudi Dharmalingam) emerge as the most colorful of the secondary characters.
Mr. Cumberbatch is no stranger to heavy lifting onstage. (He memorably played both leading roles, alternating with Jonny Lee Miller, in Danny Boyle's 2011 production of "Frankenstein" at the National Theater.) He is in fighting trim here, and brings energy and precision to every word and movement, including the climactic fencing match.
Yet this Hamlet seldom seems to relate to anyone else onstage. In the big dialogue scenes, you're conscious of Mr. Cumberbatch riding Shakespeare's rushing words like a surfboard, as if saving his interior energy for the monologues.
In those, he is superb, meticulously tracing lines of thought into revelations that stun, elate, exasperate and sadden him. There's not a single soliloquy that doesn't shed fresh insight into how Hamlet thinks. And Ms. Turner stages them beautifully, presenting many in the middle of the action, with Mr. Cumberbatch stepping away as the rest of the cast freezes in tableaus.
The effect is of a man separated from reality by his own self-fascinated mind. Hamlet has never seemed so alone, which gives him an added poignancy. This production would benefit greatly, though, if it allowed him to play well with others, too.
Hamlet (Barbican) - 'Benedict Cumberbatch rings the changes' | WhatsOnStage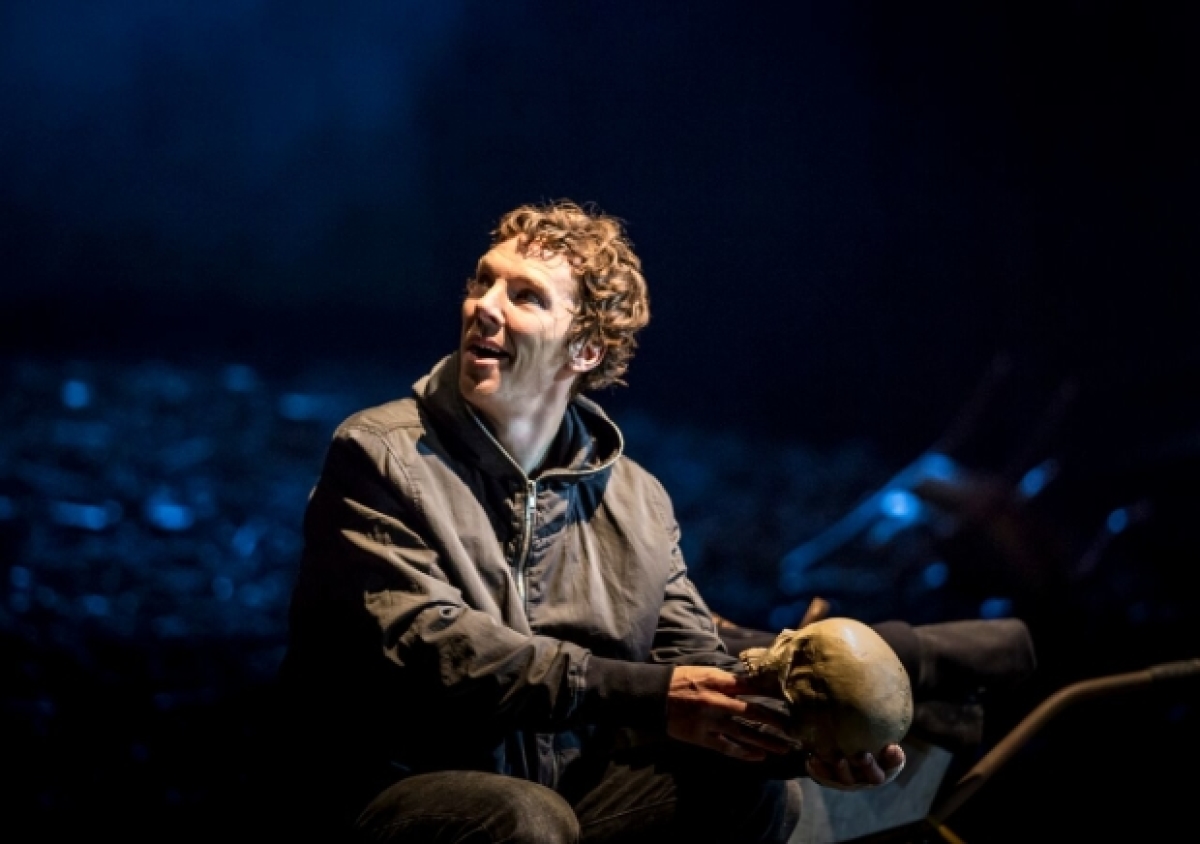 "To be or not to be," has not gone back to its "proper" place in Act 3, pace The Times, but to the middle of a drastically re-jigged Act 2, after Hamlet's sardonic encounter with Jim Norton's Polonius. What was all that fuss about anyway? Hamlet is the most fluid, alterable and oft-adapted play in the canon, always has been. Therein lies its refracted brilliance, and its mystery.
And here's the rub: Benedict Cumberbatch delivers the great soliloquies superbly, urgently, intelligently and full of concentration, right to the top of the Barbican. He's not a "young" Hamlet, but he's a compelling and charismatic one, feigning his madness as a toy soldier in his playschool castle within the "real" castellated prison of Elsinore
Act 1, also seriously re-jigged, starts with him listening to Frank Sinatra singing "All of me" ("Why not take all of me... can't you see, I'm not good without you") on his gramophone, like a lovelorn patsy - but is he missing Ophelia or his dead dad? - and crying "Who's there?" (filched from the cut first scene on the battlements) to someone at the door - it's Horatio (Leo Bill), his college chum, complete with specs, checked shirt and back-pack.
This may sound as though Lyndsey Turner's production is a riot of radical irreverence, but it's nothing of the sort, alas. Great swathes of the play are collapsed - some of the court scenes, the Players' scenes, the Claudius/Laertes action from the return to Denmark through to the duel - and where alternative readings between the quartos are taken, they are made to work; Hamlet talks of "our philosophy" not yours, Horatio. But the narrative is no sharper for it.
'Cumberbatch rings the changes, and the confusion, through a dynamic propulsion'
Es Devlin's glorious design - the "time" of the play is indefinite, with a Prussian feel and a strikingly Estonian Fortinbras (Secret Theatre's Sergo Vares) at the head of the invading army - fills the Barbican stage with staircases, family portraits, tangled skeins of artificial flowers, and a toy theatre proscenium, brilliantly used for the play scene and the closet, where Polonius is stabbed behind the arras.
In the short second half, this arena is filled in with stones and rubble, a site of emotional and political devastation, as the army marches, Hamlet is deported in handcuffs, the ghostly gravedigger looms (Karl Johnson doubles cadaverously as the old king and the corporeal clown), and the world spins off its axis in chaos.
This momentum is well maintained through a startlingly short running time of just over three hours (why the rush? Is this with Broadway in mind, or the live screening on 15 October?), the interval conventionally taken deep into the fourth act as Claudius (a smoothly sinister, parch-voiced Ciaran Hinds) consigns his nephew to death in England.
And it's driven along by Cumberbatch leaping onto the banquet table on "O, that this too, too solid flesh would melt..."; giving notes to the Players on how to speak the speech, trippingly on the tongue; and making "How all occasions do inform against me" the centre of his performance and spur to his dull revenge at the prospect of imminent death for 20,000 men in a pointless war - "a fantasy and trick of fame" - going to their beds like graves.
You never once think he's vacillating, or cracking under the strain: he's learning about himself and the human condition, acquiring a spiritual grace and intellectual isolation that is more usually given in the character's sulky opening words in the second scene ("A little more than kin, and less than kind") and then justified; Cumberbatch rings the changes, and the confusion, through a dynamic propulsion.
But there are things in this version of the play that will never do. There's far too much inaudibility. The wider reaches of the story, the plot, involving Claudius and the court, are insufficiently clear. Norton's Polonius is too nebulous, and reading his "few precepts" from a notebook doesn't look good; he'd know them, and he's not funny.
Neither Hinds nor Anastasia Hille as Gertrude has reached fever pitch in performance (Turner is exposed as an inexperienced Shakespearean in the overall level of acting) and Hille really must put her fluttering hands away in the "willow grows askant the brook" speech.
Nothing growing "askant" about Sian Brooke herself, though, an exceptional Ophelia, recording - is she? - the detail of her life on a camera, like a digital age obsessive, cutting out reality; she sings well, too. But if you're going to have a piano on the stage, someone at some point must play it beautifully.
I like what Leo Bill does with his heavily cut Horatio, and Kobna Holdbrook-Smith tries hard with a similarly reduced Laertes. But Rosencrantz and Guildenstern are drearier than they need be, Osric is blanched out as a dull courtier (no hat banter), Ruairi Conaghan's Player King seems to have come from Out of Joint, not Thespian Towers. The curtain calls need work, too; they surely must improve with more self-belief and passion down the cast list.
Hamlet continues at the Barbican until 31 October 2015
Did you like the video? Like or tell your friends!