Tiger woods advertising nike
The amazing story behind Tiger Woods' iconic Nike juggling commercial
It wasn't that long ago that Tiger Woods was the world's most marketable athlete, annually ranking at or near the top of the list of the world's highest-paid athletes.
But for all of Woods' endorsement deals and commercials, there is one commercial that stands above them all — The famous juggling-golf-ball commercial for Nike, which first aired in 1999.
The commercial is simply Woods juggling a golf ball with a wedge for 28 seconds, fast, slow, between his legs, behind his back, and he finishes by hitting the ball out of mid-air down the range.
But the iconic commercial almost never happened, and even after the idea was born, it might have still failed if not for Tiger's fierce competitive fire.
On the day the commercial was shot, Woods was actually at a driving range filming a different commercial for Nike, Chris Zimmerman of Nike told NBC's "Dateline" in 2000. In that commercial, a bunch of hack golfers suddenly become awesome on the driving range just by being in the presence of Woods. Once he leaves, they suddenly revert back to their lack of golf ability.
Zimmerman goes on to explain that it was during a lunch break while filming that commercial that Woods was killing time by juggling a golf ball.
It was actually Doug Liman, the director of the commercial, who noticed Woods juggling the golf ball. Liman, who is better known as the director of big Hollywood films such as "Swingers," "The Bourne Identity," and "Edge of Tomorrow," saw what Woods was doing and had an idea.
While giving a talk to a conference in 2008, Liman explained how he came up with the idea, as recounted by Greg Sandoval of CNet.
Liman noticed Woods bouncing a ball on the edge of a club during breaks from shooting. Liman grabbed a shoulder-held camera and, away from the crew, asked Woods to bounce the balls while being filmed.
There was no trick videography or computer animation used to make the commercial. In fact, Woods actually failed on his first three attempts, according to Zimmerman. Here are the outtakes for the first three attempts, aired on "Dateline."
That was when Liman started to get frustrated and actually accused Woods of choking.
"I told him, 'I can't believe that of all people you are choking under pressure,'" Liman told the audience in 2008.
Now here is where we see both the talent and the competitiveness of Woods shine through.
Woods glared and then bounced the ball while transferring the club through his legs behind his back and finished by smacking the ball in mid air. The shot, which became a classic, was natural, unrehearsed, and driven by imagination rather than millions of studio dollars, Liman said.
What is even more amazing is the timing. Woods needed to complete his juggling trick in exactly 28 seconds in order for it to fit into a commercial. Woods winds up and smacks the ball out of mid-air at exactly 28 seconds, and he did that on just his fourth take.
That is something that only Tiger Woods could do. 
Of course, a good Woods story must include an awkward high-five, and this one does not fail.
Here is the full commercial.
This post first appeared on BI in 2015.
tiger woods advertising nike
Nike's New Tiger Woods Ad Has A Brazen Message For His Critics
Nike, one-time sponsor to suspected murderer Oscar Pistorious and Oprah-approved doper Lance Armstrong, pushed out its latest Tiger Woods comeback ad last night on Facebook, where it's been shared more than 8,000 times, with messages of support and messages of disgust and general argument because, well, Nike's message is simple — and brazen: "Winning Takes Care of Everything." 
The slogan is pegged to the news that Nike is sticking by its poster boy once more after he won the Arnold Palmer Invitational on Monday. But it also comes in the neverending shadow of his affairs.
And, sure, Tiger has gotten back to where he was on the course before the bottom fell out on his personal life: He's once again the top-ranked golfer in the the world.
And plenty of the comments on Nike Golf's Facebook post were up for congratulating that:
Go Tiger! Rawr! Bbut ... wait. Isn't this the same guy with enough extramarital affairs to give HuffPo material to create a Tiger Woods Mistresses section on its website, to ruin his marriage, and change the lives of his young children? Oh, yeah. Right. 
And obviously the insinuation that "Winning Takes Care of Everything" is at least some sort of not so subtle nod to the everything-ness of those dalliances, and obviously the connected has been much frowned upon by people in the same Nike Facebook thread: 
All of which brings us back to the scabbed-over argument about whether Woods is and can still be a role model: 
Though that last user there is sort of missing the point — a lot fewer people are probably upset with Tiger Woods for having a potty mouth than for his 14 mistresses — he is bringing up a valid point that tends to surface whenever our athletes let us down: These people don't ask to be emulated. 
But it's Nike that invited those questions all over again, obliquely if not directly, in a pretty head-on statement about Woods that perhaps tries to veer him back toward role-model territory. This is the same Nike marketing department that stood by its man throughout the scandal even as other sponsorship deals vanished, that brought him back into the, uh, fore with this creepy video ad upon Tiger's return to competition, complete with Earl Woods voiceover and What It All Means:
And this is the same marketing department that has now chosen to take to social media with a coy message from the copy team that's angering a lot of people elsewhere:
All's forgiven by @nikegolf: "Winning takes care of everything." @tigerwoods, World #1. bit.ly/YC4Wel"

— Janelle Rodriguez (@janelleCNN) March 26, 2013
Nike has a new Tiger Woods ad with the slogan, "winning takes care of everything." Don't start believing that,Tiger.cbssports.com/golf/blog/eye-…

— Lucianne Goldberg (@LucianneLinks) March 26, 2013
Nike's Tiger Woods ad immediately following his Masters win is so darn perfect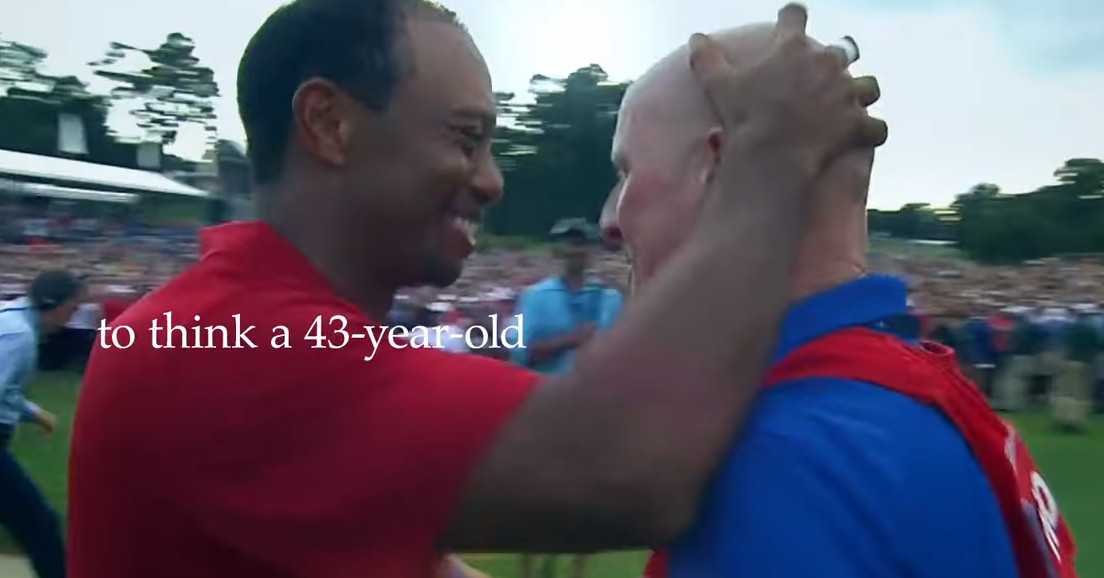 Nike had a Tiger Woods commercial ready, even though it seemed impossible that he would return to Augusta in 2019 and win where he's struggled since 2005. The ad honors a remarkable career, and they nailed it.
Whether 3-years old, or 43-years old — Tiger Woods has had a singular dream, to be the best of all time. When nobody thought he could win, he did. We are all witnesses to history and proof that you're never too old to chase the same dreams you had as a kid.
This is all so wonderful. Kudos to Nike for having this ready to go — just in case. Thankfully we got to see it.
Did you like the video? Like or tell your friends!