Chris brown murder she wrote
She Wrote Murder (Chris Brown Clemency Sequel) - Chapter 56:
Zahtwon's P.O.V: "Not right now Chris I'm-" A slight moan slipped from my lips as I felt something cold on my navel traveling up to my stomach. "The hell is that?."
"Shhhh." He whispered. "The kids are at my parents so it's just me and you here baby."
"Chris why would you do that?. You know-" His lips cut into the conversation with a deep kiss.
"Shut up damn. Let a real nigga make it right at least Zahtwon."
I wanted to keep my mouth shut but this voice is turning me on and I want to hear it more. "No nigga you shut the hell up!."
"You talk to fucking much to be a lil girl."
"A lil girl?. We're the same damn age Chris and I'm pretty sure I can take that pipe of yours like a grown ass woman."
I can feel him smirking. "You sure are talking a lot of shit." I can hear the  sound of his clothes shredding and hitting the floor.
"Because I have that right." I smiled kissing him out of no where making him stop anything else he was planning. I laid him down getting on top of him and with the lights dim in our room I can see his tattoos on his chest. I bit my lip trying not to lose my mind.
"You okay baby?." He chuckled rubbing his hands on my ass.
"Let me ride you daddy."
At an instant his manhood jumped. I took it in my hand pushing my panties aside sliding him in at the tip. Watching Chris's facial expression go soft on me.
"It won't fit daddy." And there it jumped again.
"Tell me what's wrong baby?." He played along sitting up. "Mhmm I guess I gotta make it rain first." It is his turn to lay me down and I felt this sensational throbbing between my legs. "I love it when you call me daddy." He shouted right before he went down on me.
My moans stretched louder throughout the house as Chris licked and sucked his way to my spot.
"Nahhh not on my watch!." He stopped flipping me over slowly pushing himself into my entrance.
"Mhmmmm yes daddy!." I gripped the pillow to my mouth hoping it will ease my screams.
"You don't need that shit!." He muffled.
"OOOO YES YES!."
"So what was all that shit you were talking?!."
I couldn't say anything back.
"Throw it back on me baby." He stopped gripping my hips as I backed it up. "Fuck!." He mumbled under his breath. "Keep it up just like that."
"Like that daddy?." My voice began to get all innocent.
"Just like that baby." He sounded so relax.
"Let me ride you."
"Ride me?." He asked in curiousity.
"Yes ride you."
"Zahtwon are you serious?!. Right here really?."
"Chris we're in bed to-." When I turned around there was his parents, friends, cousins, uncles, aunties, our children, my family, and friends. Without saying a word I quickly walked back into the house.
chris brown murder she wrote
She Wrote Murder (Chris Brown Clemency Sequel) - Mahaliah Herron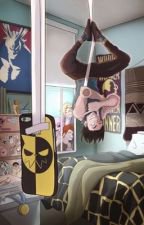 Boku no hero academia chatroom (Bakusquad x...
By sleeplessInc
718K 30K
When the salty (Y/N) (L/N) creates a chat for her UA friends, she soon realizes that this may or may not have been the best idea. Chaotic conversations, weird topics, annoying Bakugou and bullying Mineta. And all that usually at 2 or 3 AM.
        (everyone is welcome but if you're gonna throw shade then just f*ck off. Act sh*tty to one of my readers then you'll have to try to catch these fists)
        (I use allot of references, you don't have to tell me when I quote things from shows or posts, cause I know. Things like "omg this is from spongebob!!" or "brooklyn 99!!!" is welcome though!!! lets fangirl/boy together about awesome shows!!!)
Omarion feat. Chris Brown and Jhene Aiko's 'Post to Be' - Discover the Sample Source
Sample appears at 00:59 , 1:58 and 2:03
Download this Track
Buy on Vinyl/CD
Did you like the video? Like or tell your friends!